~by Nikki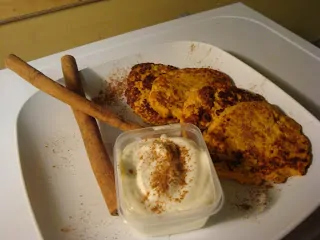 Leftovers week continues, if you've missed our other offerings, you can find everything we've posted thus far here. For my family dinner, I was charged with the duty of bringing pies. My family bestowed this duty on me for a specific reason. I do NOT believe in store bought pies. Especially not when it comes to sweet potato pie. I don't know how the bakers in the factories get the pies to that unnatural, neon orange color but it frightens me. I'd rather eat my pie. At least I KNOW what's in it.
But…it'd been a long time since I'd last made a sweet potato pie and when I went to the grocery store I bought way too many of the spuds. And when I say way too many, I mean that in addition to the two I made for the dinner, I had enough mashed sweet potato left to make three more pies AND the recipe you see here. Yeah…I bought too much sweet potato.
Moving on…this is a great snack for folks who like sweet/salty combos and especially if you want sweet potato pie and can't have it. It's a bit different but your tongue gets the gist of it. This got a thumbs up from both divas who tried to steal my stash before I could get a photo. Luckly I quickly snapped a shot before they dug in!
Nik's Protein Sweet Potato Pancakes
Ingredients:
2 c. mashed sweet potato
2 tbsp low-fat butter spread (or butter, if that's what you're into), melted
2 eggs
3 scoops Any Whey unflavored protein powder
2 tbsp Atkins baking mix (in the absence of this, you can use either Carbquik or whole wheat pancake mix. Don't simply use flour as you need the baking powder that's in the mix!)
1/2 tsp salt (yes, I know this seems like a lot but you want it to read a bit salty to go with the sweet dipping sauce)
Directions:
Mix sweet potato and butter in a large bowl.
Add salt and eggs and mix completely.
Add protein powder and baking mix and stir again. The batter will be soft but thick. Like so: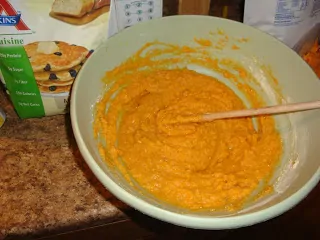 Spray a skillet, set it over a medium flame and allow it to get HOT.
Drop dollops of the batter into the skillet (I used the 1 oz. scooper that came with my slider grill). Heat for about 3-5 minutes and then gently flip (it will be soft still).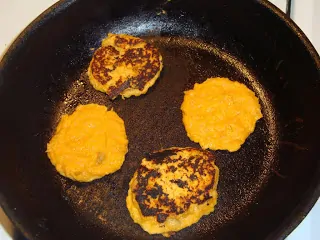 Heat about 3-5 additional minutes on the other side and then transfer to a plate lined with paper towel.
Makes about 24 dollar-sized pancakes.
It's best to go "low and slow" with these. While you're cooking, you can putz around your kitchen or clean up the mixing dishes (which is what I did). It takes a bit to get all your pancakes cooked, but BELIEVE ME it is worth it!
With this you'd serve:
Nik's Cinnamon Caramel Dipping Sauce
1/2 c. unflavored Greek yogurt (digression: I accidentally bought full fat yogurt! It will take a priest, a nutritionist and an exorcist to get me back to fat free!)
2-3 tbsp no-calorie sweetener (I used Splenda)
2 tbsp sugar-free caramel sauce (like Smuckers)
1/2 tsp cinnamon
Directions:
Mix all ingredients together. Makes four servings of one ounce each.