~~posted by Jen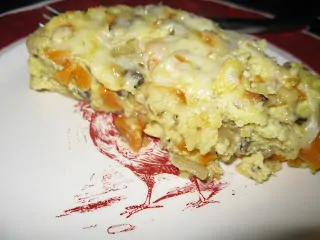 Ooey gooey cheesy goodness! (Aren't my new rooster plates cute?)


We hope you're enjoying out Leftovers Week offerings thus far! Today was all about sweet potatoes, tomorrow we conquer leftover stuffing! Happy Hannukah to those of you who celebrate Hannukah, and I posted a special gift for you earlier today, Protein Potato Latkes!
Y'all should know by now how much I love roasting vegetables and making frittatas. My family is equally fond of both things, so it should come as no surprise that I used my leftover roasted sweet potatoes from Thanksgiving dinner to make a scrumptious frittata for dinner last night.
The boys went absolutely bonkers over this, and the pickiest one of the three actually liked it the most! Go figure! This is a vegetarian dish, but it has lots of protein without any meat. You could certainly add some meat if you wanted, I leave that up to you.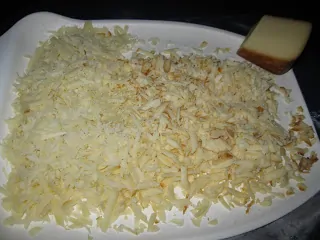 2 kinds of freshly shredded cheesy goodness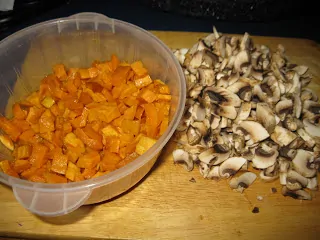 Leftover Sweet Potatoes with the fresh chopped 'shrooms
Here's what I made:
Jen's Sweet Potato & Caramelized Onion 2 Cheese Frittata


Ingredients:
6 large eggs
1/4 cup Greek Yogurt
2 cups leftover roasted sweet potatoes
1 medium sweet onion (I used Vidalia) chopped into small pieces
1 cup fresh mushrooms, sliced
1 bunch fresh sage
1/2 stick I Can't Believe It's Not Butter (I even took a pic to prove it!)
1 cup grated Gruyere cheese
3/4 cup grated smoked Cheddar cheese
2 tablespoons Extra Virgin Olive Oil
1 tbsp garlic powder
1 tbsp onion powder
1 tbsp Herbs de Provence (good news! Badia now makes these, check the spice rack on your Latin Foods aisle, much cheaper and JUST AS GOOD!)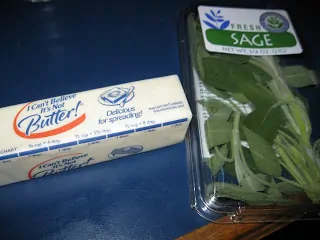 Photo Evidence so Nik can see I DID use ICBINB


Directions:


Preheat oven to 400 degrees. In a mixing bowl, combine eggs, milk, yogurt, and seasonings (except the fresh sage). Beat well until thoroughly combined, you don't want lumps of yogurt in your eggs. Mix half of each kind of cheese into the egg mixture and set aside the remaining cheese.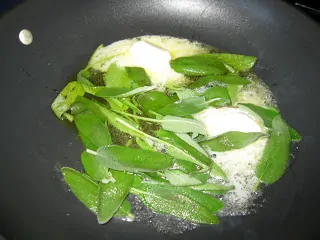 Sage browning in the ICBINB and EVOO


Preheat a non-stick oven safe skillet, add the butter substitute and olive oil. Let the butter melt, then add the fresh sage leaves and cook them for just a couple minutes. Remove the sage leaves and discard.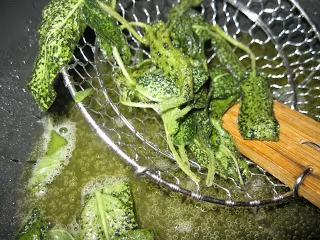 Removing the fried sage leaves


Add the onions and cook them until soft, letting them caramelize. Once the onions start to brown, stir in the mushrooms and cover so it can saute together for a couple minutes until the mushrooms are tender. Stir in the sweet potatoes and let them heat through.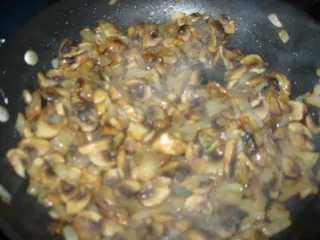 Mushrooms and Onions Cooking up


Pour in the egg mixture. Using a rubber spatula, slowly stir the egg mixture and veggies until thoroughly combined. You want the eggs to be about 2/3 done but still in a solid mass (think omelet) and not in pieces like scrambled eggs.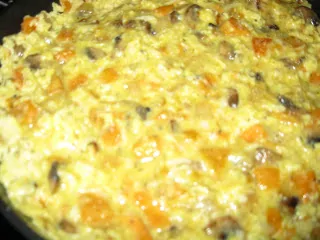 Just before the final cheese layer and then into the oven


Sprinkle the remaining cheese evenly over the top of the eggs. Remove the skillet from the stove top and place it in the oven for about 8 to 10 minutes or until the cheese is thoroughly melted. Let it cool slightly before cutting it into wedges, that gives the eggs extra time to set up so it comes out in one piece. Makes 8 pie-slice sized servings.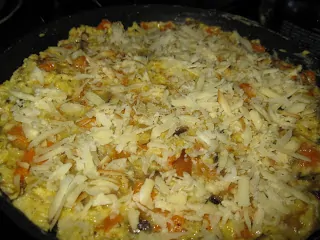 Final cheese added, going in to the oven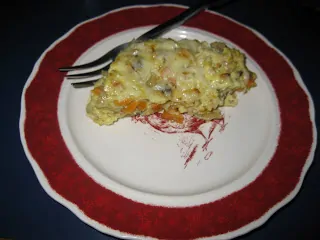 Here's my piece on my cute new red rooster plate!