~~posted by Jen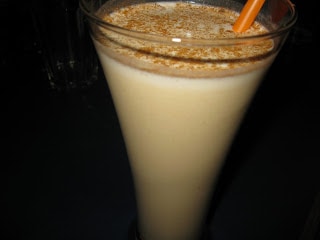 So y'all know I've been on a smoothie kick lately with the
Yoplait Frozen Smoothies
, but those things get expensive after awhile! The cheapest I've found them is $2.79 and the bag only makes 2 smoothies. They ARE delicious and easy, and I'll still keep a couple bags on hand for "shake emergencies" when I'm in a hurry, but I have found a more economical way!
Since it's Leftovers Week and today is all about leftover pumpkin, I decided to make a pumpkin smoothie. I never have actual pumpkin pie leftover long enough to re-create anything with it, like Nik's delicious
Chunkin' Pumpkin Protein Ice Cream
. However, I somehow always have a random half can or so of leftover pumpkin that I usually toss in a container and freeze to use at a later time. Don't ask me how I always manage this every single year, heaven only knows, but I do!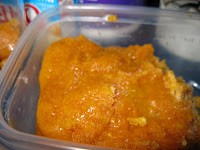 Frozen Leftover Pumpkin
So here's how I did it:
Jen's Pumpkin Caramel Protein Smoothie
Ingredients:
3 tbsp frozen leftover canned pumpkin (I just cut a piece off the block & cubed it. Sometimes I freeze it in ice cube trays, too.)
2 tbsp 2% Greek Yogurt (also frozen, just put it in ice cube trays this is perfect for smoothies.)
6 oz milk (I used 2%)
1 scoop vanilla protein powder
1 teaspoon pumpkin pie spice
Sugar Free Sweetener of your choice, to taste (I used 2 pkts Splenda)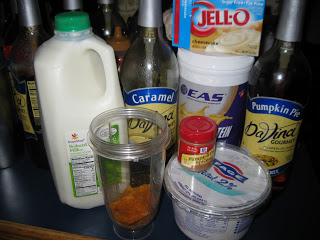 The Ingredients
Directions:
Add the pumpkin, Greek Yogurt, and milk to your blender cup. Now add in the protein powder, both syrups, pudding mix, pumpkin pie spice, and sweetener. Whiz it up in the blender until the frozen pumpkin and yogurt are completely incorporated. Pour into a glass, sprinkle a bit of pumpkin pie spice on top for decoration, and enjoy! Whippage is optional.