~~posted by Jen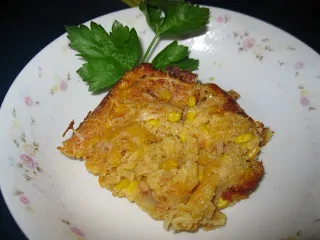 (This recipe is a FREE preview recipe from
the
Bariatric Foodie Holiday Survival Guide
 available for instant download from the "Shop BF!" page.)
Lots of people serve whole kernel corn, or creamed corn, (um in some Southern families, BOTH) at holiday meals. It's not unusual to have some left over and wonder what in the world you're gonna do with it. You could throw it in some soup, or maybe some cornbread. Both of those would be tasty options.
Why not make a whole other yummy meal from it? Which has pretty much been our point all week, with "Leftovers Week". Whether it's actual cooked leftovers, or just the kind where you bought too much of something (shyly raises hand) and now have a cabilliontyseven packs of something and wonder what to do with it.
This recipe is one I adapted from Paula Deen. Then Nik um re-adapted my recipe because it was not exactly that great when you ran the stats. I like butter, what can I say. Butter is a food group where I come from. Just like Mayonnaise and Bacon! No wonder I reached 495 lbs with little to no effort, right?
S'anyway, this is one of the recipes we made for the Holiday Preview and it's always popular with my non-ops, too. My father-in-law absolutely loves this, he calls it "that cheesy corn stuff you make, Dear." Sometimes I add bacon to it, or I've also made it both with chicken in it and with shrimp (that gives it kind of a "Shrimp N Grits" effect… Holy NOM!) to make it a complete meal.
With the Greek yogurt, cheese, and added protein powder, you still get enough protein to consider it a meal without adding any meat to it. The resident vegetarian (I really should just start saying "RV", y'all would know who I meant) gives it full approval also.
Let's be honest, if you can feed a healthy recipe to a houseful of non-WLS folks and they all like it and ask for seconds, that is considered a victory imho. Can I get an "Amen"? So here's how it goes:
Jen's Corn Pudding
Ingredients:
2 eggs
1 can whole kernel corn (or 1 1/2 cups leftover whole kernel corn)
1 can cream style corn (or 1 1/2 cups leftover creamed corn)½ c. Blue Bonnet Light butter spread, melted
2 tbsp no-calorie sweetener
½ c. low-carb baking mix (Bob's Red Mill makes a nice one)
½ c. nonfat Greek yogurt
½ pkg Jiffy corn muffin mix
8 slices cooked bacon, crumbled (optional)
1 ½ c. + ½ c. 2% shredded cheddar cheese
1 tsp garlic powder
1 tsp onion powder
OPTIONAL: 2 scoops Any Whey Unflavored Protein powder (recommended if you are early out)
Directions:
Preheat oven to 350 degrees. Combine corn, eggs, Greek yogurt, butter, eggs, garlic powder, onion powder, Splenda, and salt until thoroughly combined.
Fold in the corn muffin mix, Atkins baking mix, crumbled bacon, protein powder (if using it), and
1 ½ cups of cheese. Stir with a rubber spatula until completely mixed together.
 Spray a 9×9 inch casserole dish or baking pan with cooking spray, then pour the batter into the pan.
Bake at 350 degrees for 45 minutes or until golden brown.  Remove from oven, top with remaining cheese, then return to oven for an additional 5 to 10 minutes just until the cheese melts.