~~posted by Jen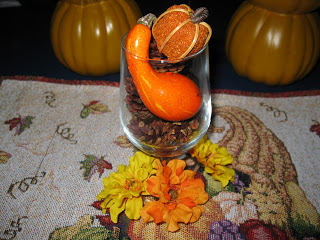 Individual or Side Table centerpiece: wine glass with pinecones, pumpkins, & gourds inside and a few fall flowers around the base. Pretty and EASY!!




Well guys, this is it! Tomorrow is the big day! (Or if you're on the East coast, today is the big day!) I don't know about y'all, but I have been running around like a maniac all day trying to finish up my last minute errands and get the big part of cooking prep out of the way.
Are you worried and fretting over how to handle a holiday foodfest since having weight-loss surgery? Nik and I remember that feeling very well, but we've got you covered with her BF Survival Guide to Thanksgiving. As usual, Nik has some very practical advice and tips that work well for any stage of the weight loss surgery journey.
If you're still wondering what to cook or making some last minute menu plans for the holiday, we have our WLS-friendly Thanksgiving posts all linked together here along with a Sugar Free Cranberry Sauce Recipe (both whole berry and jellied versions). I updated that post at the end to include a link to all the desserts we've posted for Dessert Week.
In case you missed it last night, I posted some easy yet elegant centerpiece ideas to make your tables look gorgeous, and I included a couple more here that are even faster and easier using some of the same components.
Nik and I are thankful for all of our friends, who also happen to be readers of our blog. We wish you a safe, happy, and healthy Thanksgiving!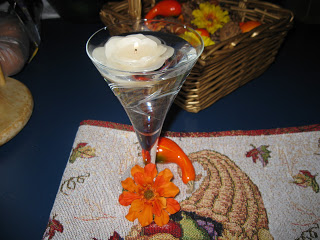 Floating candles are inexpensive and beautiful on the table. This one is in a martini glass with a fall flower and gourd at the base of the glass. Group several together in an arrangement for your main table to create a beautiful centerpiece.