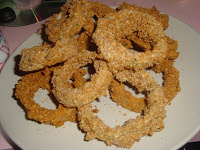 Certain popular websites for girls who happen to be hungry claim this recipe, but it's been around forever. I got it from somebody who got it from somebody who got it from somebody else which is probably the same place THAT chick got her recipe from. She was just smart enough to market it.
That being said…
I was in the mood for onion rings yesterday. This gets me over the hump. One word about these onion rings though. They don't pair so well (to me) with ketchup. Considering the "breading" it all comes together to be too sweet. I much prefer a nice Greek yogurt based ranch dip for these.
At any rate they are notoriously easy to make and have the added benefit of fiber which MANY of us desperately need (and you know why so don't make me say it…I'm trying to keep this blog about food only!)
Fiber CRUNCH! Onion Rings
1 large onion, sliced into quarter inch rings (a piece of advice…going back to the sweetness issue. Don't use Vidalia. A nice white onion works well)
2 cups Fiber One Original cereal crushed into crumbs (do it in a food processor)
1/2 c. liquid egg substitute
1/4 c. Parmesan Cheese
salt, pepper, garlic powder, onion powder to taste
Directions:
1. Mix cereal crumbs with spices and parmesan cheese
2. Set up a dredging station with the liquid egg substitute in one bowl next to the cereal mixture
3. Dip each ring into egg, then cereal and repeat.You should have a thick coating and good coverage.
4. Lay out on a sprayed cookie sheet and bake at 350 for 15 minutes
YUMMY! I also do mozzarella sticks this way (thanks Shari for that recipe!) using light string cheese. My children LOVE these things. And I can have my little plate of them and not feel like I wrecked my whole day.
Notice some in the picture are lighter than others. This is because my 24 year-old "I don't eat that healthy shizz" brother insisted I make him some using bread crumbs. I snapped a pic of all the ones that I made but the darker ones are the ones I ate. But I have a little secret. Come close…closer…so he doesn't hear you…i used whole wheat bread crumbs and a little bit of Fiber One anyways! Bwahahahahaha!!! He loved every minute of it.
Here's some other ways we like to use Fiber One:
Rocky Road Pie
Protein Cheesecake
Apple Brown Nikki
Zucchini Fries