~~posted by Jen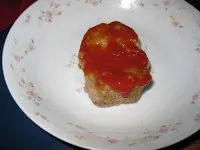 Mini Meatloaf ready to eat!
I was torturing y'all a couple weeks ago about my discovery of a non-carb binder for meatloaf, remember? I promised to tell you what it was, then Soup Week came along, and the meatloaf recipe got back-burnered.
Well, it was pretty rude of me to leave y'all hanging like that, so I apologize! But I'm making it up to you today!
My first ex-husband absolutely adored meatloaf. Honestly, I had never eaten it before in my life before I married him. His Mom made it with chopped onions, peppers, tomatoes, all the usual stuff.
Now y'all know I am a lazy cook, and I freely admit that. So I thought to myself, "there is no way in hell I am chopping all this crap up and cooking it just to put in meatloaf."
The first time I made it for Brian, I used salsa that I drained the excess liquid from. He didn't know the difference, and even went so far as to say my meatloaf was better than his Mom's. I just smiled and said "thanks for the compliment!"
A few years later, I started substituting ground turkey for half of the ground beef, he never even noticed.
From my original recipe, I tweaked it a bit further to get more protein into it and not have to use bread crumbs or crackers as binder. So I discovered shredded cheese gives you the same texture without the carbs!
I know it sounds weird, but I promise it works! Here's how it's done:
Jen's MexiCali Meatloaf
Ingredients:
1 lb ground beef (I use 85/15 or 90/10)
1 lb ground turkey
1 cup salsa, strained of excess liquid (mild or medium, depending on your preference)
3 eggs (or equivalent Egg Beaters if you prefer)
2 cups finely shredded cheese (I used Mexican blend)
2 tbsp garlic powder
2 tbsp onion powder
1 tbsp Montreal Steak Seasoning
1 packet Goya Sazon Seasoning Mix


Directions:
Pre-heat oven to 400 degrees. In a large mixing bowl, combine all ingredients until thoroughly blended. The mixture should still feel moist to the touch but form a ball easily. If it seems too wet, add a bit more cheese to firm it up more.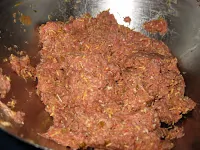 Mixed up and ready to bake


Now this step is important, since we can't taste raw meat for seasoning. Take a very small piece of the meat mixture and microwave it for 1 minute. This should cook it through so you can taste for seasoning and adjust according to your tastes.


Once you've adjusted your seasonings, you're ready to form it into either individual loaves (if using a mini loaf pan) or 1 big loaf. Spray your pan with cooking spray.


Here's a secret to avoiding all that extra grease collecting in the bottom of the pan. Place a piece of bread (stale bread is fine, you're not going to eat it) on the bottom of the pan to line it before you put your meat mixture in.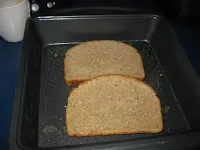 Sprayed pan lined with bread slices
I learned that trick from Paula Deen, and it totally works. I usually save the end pieces ("heels") of loaves of bread in a big freezer bag in the freezer, then pull them out to use when I make meatloaf.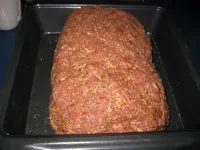 Big Meatloaf ready for the oven
Now form the meat mixture into loaf form and place it on top of the bread slices. If individual loaves, bake at 400 degrees for about 20 minutes. A big loaf (side note: I cook my big loaf in a square 9×9 Cake Pan, not a loaf pan) usually takes 45 minutes to an hour at 400, depending on your oven and how big the meatloaf is.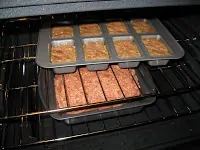 Baking away


Mix about 4-5 tablespoons of salsa with 2-3 tablespoons of ketchup to top the meatloaf with during the last few minutes of cooking, or you can serve the topping sauce on the side. Remove the bread slices from the bottom of the meat before serving.


I can usually eat 1 individual loaf (1 1/2 on a big pouch day) or a slice of the large loaf. It gets better in the fridge, like anything else with tomatoes in it. Sometimes I use leftover meatloaf instead of ground meat in my Cowboy Soup, and it's delicious!
If you're a bacon fan, add a jar of Hormel Real Bacon Bits and a bit more cheese, omit the Sazon, and you've got Bacon Cheeseburger meatloaf! Play with your food, send us what you come up with, including a pic, and you could be our next Recipe Remix!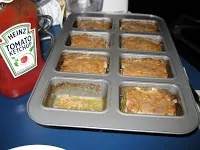 Mini Meatloaves just out of the oven