~~posted by Jen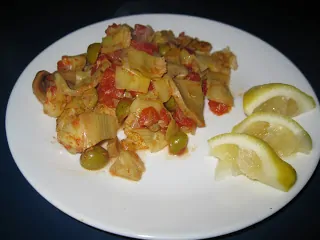 Here's a little known fun fact about me: I adore trying a dish at a restaurant and then going home and re-creating the recipe. Nik loves to do that too, like her version of the "Mac Wrap."
Years ago my first husband Brian and I used to frequent this restaurant in Valdosta, Georgia (the name of which escapes me at the moment) every Friday night for dinner.
The chef there loved to create unusual combinations, especially with seafood and fish. He came up with this phenomenal fish & vegetable dish that we both loved, and I HAD to re-create it at home.
It's been a few years since I made it, but these days I have a pickier crowd to cook for, one of whom is a vegetarian who eats only fish, seafood, eggs, & tofu for protein.
Of course I had to dust off the recipe and make it for dinner Saturday night. A word of forewarning, this combination of vegetables with the lemon juice is kind of "briny". If you like the flavors of pickles and olives, you should really enjoy this.
It's pretty simple to make, and the leftovers were transformed into something fabulous that I'll share with you later this week! Here's how it went down:
Jen's Mediterranean Tilapia


Ingredients:


8 Tilapia fillets (I bought the frozen "Club Pack" at Wegman's) **you will need 4 cooked fillets leftover to use for the recipe remix later this week, so adjust the quantity accordingly**
2 cans quartered artichoke hearts, drained
1/4 green Spanish olives (sliced if you can find them, otherwise cut them up)
2 cans petite diced tomatoes, 1 drained and 1 not
1/2 cup white wine (make sure it's a wine you would drink-I used Charles Smith White Zinfandel, the $2.99 one from Trader Joe's)
1/2 stick butter
2 tablespoons Olive Oil
1/2 Lemon, juiced & zested
1 medium sweet onion (such as Vidalia, Maui, or Walla Walla) chopped
1 14 oz package sliced white mushrooms
2 tbsp Garlic powder
2 tbsp Onion powder
4 tbsp fresh dill minced, or 2 tbsp dried
Salt & Pepper to taste


Directions:
Sprinkle both sides of each fillet with my seafood rub (1 tbsp Old Bay Seasoning, 2 tbsp Salt, 2 tbsp Garlic Powder–combine it in a small airtight plastic container, you can save whatever is leftover as long as you didn't dip the raw fish or shrimp into it.)


Heat the butter and olive oil in a non-stick skillet. Once it's hot, sear the fish for 2 to 3 minutes on each side, depending on the thickness of the fillets. Remove the cooked fish from the pan to a plate and set aside.


In the same skillet, saute the mushrooms and onions, stir in the remaining vegetables, seasonings, lemon juice and zest, and wine. Let this simmer for a few minutes so the sauce cooks down and reduces the alcohol out of the wine.


After about 10 minutes or so, it should be completely heated through and all the alcohol will have cooked off.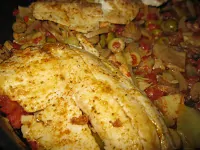 Fish atop vegetables in the skillet


Add the fillets back to the pan and serve immediately. For the non-ops dining with you, this is good served over rice or pasta. I prefer mine straight up or over cauliflower "rice".


If you're on purees, simply blend the whole mixture up in your food processor until it is smooth. What are you waiting for? Go cook yourself up a batch, change whatever you don't like, switch it up, and email us to tell us all about it! Play with your food, people!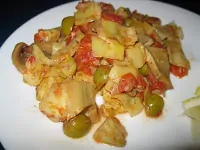 Tilapia fillet covered with Vegetables