~~posted by Jen
This is the second of the select few recipes we'll be sharing from the 2010 Holiday Preview. For those who've ordered the
Portable Preview
, you'll be receiving the full recipe set shortly. For everyone else, it's not too late to order yours!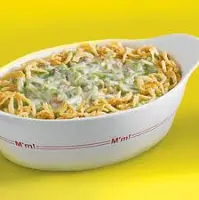 Yes, I actually have this bowl, don't look so shocked!
Everyone will receive their recipes in time for Thanksgiving next week. And speaking of Turkey Day, in celebration of this holiday, next week will be Bariatric Foodie's first semi-annual "Dessert Week"!  Nik and I will be sharing our favorite holiday dessert recipes just in time for Thanksgiving! Because you deserve dessert too! Until then, have you checked out my
Sugar Free Chocolate Protein Trifle
 yet? It tastes just as good as it looks, and it never fails to impress a crowd.
As the "big day" gets closer, look out for decorating tips and easy centerpiece ideas that make you look like a star without spending much time or money. Y'all know I am all about making something look more difficult than it actually IS!
You can use fresh green beans, but I am way too lazy for that.
Most of us enjoy a good Green Bean Casserole for this time of year, I know I sure do. I played around with the original version from Campbell's to make it more WLS friendly without sacrificing taste. (It passed the non-op taste test, which y'all know is my ultimate goal.)
I usually make my Green Bean Casserole in the microwave, because inevitably my oven is full of turkey, stuffing, and countless other holiday goodies. I've included both microwave and oven cooking instructions in the recipe below. This was very well-received at the Holiday Preview, in fact Nik heard more than one person say "This version is BETTER than the original!" So I hope you and your family enjoy it just as much!
Here's what I came up with:
Jen's Easy Green Bean Casserole
Ingredients:
1  1 can (10 3/4 ounces) Campbell's® Condensed Cream of Mushroom Soup (I used the Healthy Request® version)
1  1/4 cup milk
1  1 teaspoon soy sauce (or substitute salt)
Dash ground black pepper
1 tbsp Garlic Powder
1 tbsp Onion Powder
3 cans cut green beans
¼ cup Greek Yogurt
2 cups shredded cheddar cheese
1 can stems & pieces mushrooms, drained
2/3 cups French's® French Fried Onions (optional, you could substitute slivered almonds)
Directions:
Whisk together the soup, milk, Greek yogurt, soy sauce, black pepper, garlic powder, and onion powder until thoroughly combined. Fold in 1 cup of the cheese, beans, and mushrooms, then pour the mixture into a 3 quart microwave safe (or oven safe) dish.  I cook mine in the microwave, so I'm giving both options:
To Microwave: Microwave on high for 5 minutes, then stir. Heat it for an additional minute or so, until the cheese is melted and casserole is completely heated through.
Top with the reserved cup of cheese and fried onions (or slivered almonds) and heat on high for about 2 minutes, until cheese melts and onions get crunchy.
To Bake: Preheat oven to 350°F.  Bake for 25 minutes or until the bean mixture is hot and bubbling.  Stir the mixture, and then sprinkle with the remaining cup of cheese and the onions (or almonds). Bake for 5 minutes or until the cheese is melted and onions are golden brown.