~by Nikki
I think (suspect?)…I'm not sure but…this little blog might be coming into its own.
My evidence for such a statement?
Well…first a few of our friends stepped in to help me when I couldn't take pictures of my banana bon-bons. And lately, we've been hearing from you guys. A lot.
AND WE LOVE IT!!!
So last week, Jen did a BF Basics on Greek yogurt. Shortly thereafter we got a message from our friend and Poucher, Jane, who had the following to say:
"I have a couple of recipes to share with y'all. Wasn't sure how to send them through the blog, so thought I'd send them here.


The first is a spicy dip based on a dip from a local restaurant. Chuy's creamy jalapeno dip is famous and I've created a high protein version that my kids adore!"
Yeah…so we're ALL about dip here at BF. Dips are a great way to get your protein in while sneaking in a few veggies or a bit of fruit. And dip also helps kids to eat their fruits and veggies too. But Jane's message intrigued me especially because, although I've never heard of Chuy's, I love me some spicy food! So I asked her to snap a picture of her creation and send it along.
And she did! And so I am pleased to share it with you:
Jane's Creamy/Spicy Jalapeno Dip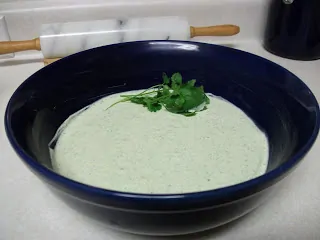 And look…she even takes "purdier" pictures than me!
Ingredients: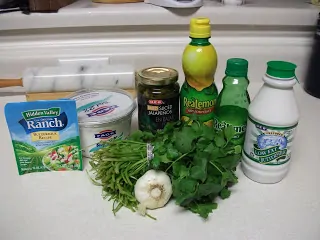 1 package buttermilk Ranch dressing mix
16 oz. Greek yogurt
1/2 tbsp lemon juice
1/2 tbsp lime juice
1/2 cup chopped pickled jalapenos
1/3 cup chopped cilantro
2 cloves of garlic chopped
1/4 cup or so of buttermilk
First, finely chop the jalapenos, cilantro and garlic. (I chop it in my mini-chopper with the juices)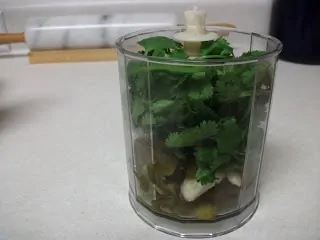 Then, mix in the rest of the ingredients.
Use buttermilk to thin it out enough to get it to where you like it.
I tried this recipe out for myself last weekend. I must say I'd never encountered pickled jalapenos before, but they were quite good. I also wasn't quite sure what to do with the rest of the buttermilk I had…so I started tinkering around with a Carbquik buttermilk biscuit recipe. Stay tuned.
Thanks to Jane for being such a dedicated Poucher and, more importantly, for sharing her creation with us!