So you had gastric bypass…and you thought to yourself "Goodbye cruel food world! I shall miss you!" And you skipped off to be skinny thinking sadly to yourself how you'd never enjoy those foods you love again…but hey, you'd be skinny, right?
Well I'm here to mess your whole world up.
I love Indian food. I don't think that should have to change just cuz I'm living la vida healthy. So when my message board at Obesity Help had an "Iron Chef – shrimp" challenge I thought it the perfect opportunity to get my Indian on. But my recipes are never purist–this is Indian with some definitely Nikki-fusion.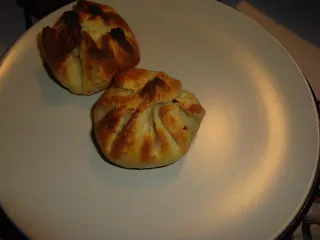 So let's start with the ingredients. There are two things going here…the lovely shell and the filling. The shell looks carby…but it's not. It's made of Carbalose flour (or Carbquik as it is more commonly known) and has less than 2g of carbs for each shell. So let's get past that and onto other things.
Ingredients
Shell:
2 c. Carbquik
1/2 c. warm water
a few shakes garlic salt
a few shakes onion powder
Directions:
1. Combine Carbquik with seasonings in a bowl.
2. Add water, bit by bit, until a dough forms
So then there's the filling: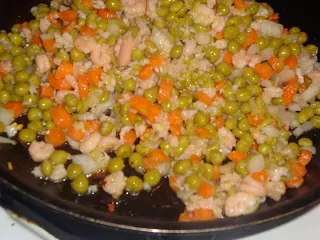 All very worthy stuff:
1 can tiny shrimp
1 small can peas
1/2 c. chopped carrots
1/2 c. chopped onion
1 tsp extra virgin olive oil
1 tsp minced garlic
a shake or two of red pepper flakes
There was also a chickpea mixture in there to replace the traditional mashed potatoes in a samosa.
1 can chickpeas, drained
1 tbsp minced garlic
2 tbsp lemon juice
salt and pepper to taste
So essentially it is hummus
So the veggie mixture you sautee in olive oil, garlic and red pepper flakes until all are softened.
Next you roll out your dough and cut it into rounds with a glass. Then take each round and roll it out until it is roughly double its original size and paper thin. Put a dollop of hummus in the middle and a dollop of the shrimp/veggie mixture. Like this: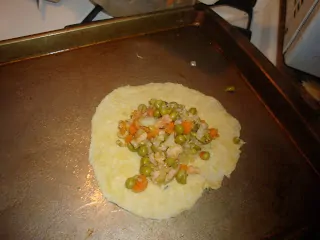 So after you do that you bring the sides up and pinch them (it should look like a doughy hershey's kiss…kinda…) and line them all up like good lil' boys and girls on a cookie sheet. Bake at 350 for about 10 mnutes.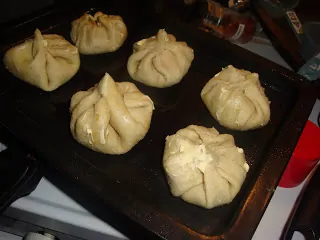 Any samosa I have ever had has a sweet sauce to go with it (to play down the garlic and savory taste of the pastry), so here's what I came up with:
Raisin sauce
1 box raisins (like the kind that go in a school box)
1 c. water
1/2 c. Splenda
Dash of cinnamon
Pinch of nutmeg
Directions:
Throw it all in a pot and let it come to a boil, reduce heat and let it simmer unti thickened.
Easy enough right?
Indian food…after weight loss surgery. Kinda feels like cheating the man…and it feels good!