Spaghetti squash is one of those veggies where there are as many ways to prepare it as people to prepare it.
That is to say, my method isn't the only method, just the one that works best for me. If you have another method, by all means share it with the Foodie Nation (in the comments section)!
Wait…let's back up a minute.
If you've never heard of spaghetti squash, they look something like this:

When cooked the "meat" of the squash is stringy, much like angel hair pasta. Cooking one is probably about the easiest thing in the world. Here's my four step process.
Step One: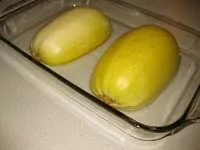 Place your squash in a cooking pan and fill it up to halfway up the sides with water. Cover it with aluminum foil and pop it into a 400 degree oven for about 40 minutes. The photo I used is cut in half. I usually don't bother to do that, though.
Step Two:
Remove it from the oven and allow it to cool completely before handling it. Seriously. I theorize 99% of spaghetti squash injuries are a result of skipping this step! When it's cool, fork test it. The fork should easily pierce the skin and go into the flesh.
Step Three:
Once it's cooled is when I usually slice it in half length wise (and might I say it's MUCH easier to do it at that point). See the center part that is sort of gooey with seeds in it? Yeah, scoop that out with a spoon, but JUST THAT PART.
Step Four:
Then run your spoon (or fork) just under the tough outer skin to extract the good stuff into a bowl. If you see any seeds, pick them out. Usually where there are seeds, there is more gooey stuff, so if you see it, get it. It's not pleasant to eat!
Ok, so you've made your first spaghetti squash. Now what? You eat it! How? Tune in tomorrow to find out!