~~posted by Nik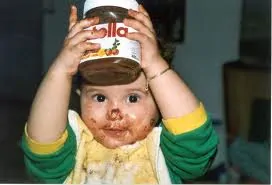 Nutella is one of those things I have resolved I can never, ever eat. I read the label. Doing so made me dump.
I already have a cold Nutella shake worked out, but with temperatures kissing the freezing mark here in Maryland, I don't want no cold shake! So I decided to convert the cold shake to a warm drink, and made the mistake of referring to it in the Sugar Free Syrup post the other day before I posted the recipe.
Don't be mad at us! We like to give y'all something to look forward to sometimes!
The below recipe also incorporates my recent experiments with whipped cream flavoring. Oh…peeps. If you don't do this already, try it out. Next time you make my Protein Salted Caramel Hot Chocolate, mix a bit of Davinci sugar-free Irish Cream syrup
in your whipped cream. Or if you do my Hot Cinnabon, try mixing some Davinci sugar-free Butterscotch syrup
in the whipped cream. It brings it to a whole different level. The trick is to use a syrup that is different from, but complimentary to, the flavor of your hot drink.
So back to the business of the day. Jen is really excited about this recipe because she is a professed hazelnut FREAK. You may have heard her mention her love for sugar free hazelnut Coffee-mate creamer a few times (or a million).
Nik's Hot Nutella Protein Drink
Ingredients:
10 oz. milk (whatever kind you use)
1 scoop chocolate protein powder (I used this
)
1 tbsp unsweetened cocoa powder

3 pumps (tablespoons) DaVinci sugar-free hazelnut syrup

No-calorie sweetener, to taste
Optional: A little half-and-half (gives it a hint of richness…but it does cost you a few calories), 2-4 tbsp fat free whipped cream mixed with a bit of Davinci sugar-free caramel syrup
.
Directions:
In your blender, combine all ingredients and whiz just until they are all incorporated. If you have a microwaveable blender cup, place that in the microwave for 30 seconds. Remove and stir then heat an additional 45 seconds.
If you don't have a microwaveable blender cup, transfer to a microwave safe mug and follow the above instructions. Top with whipped cream and enjoy!