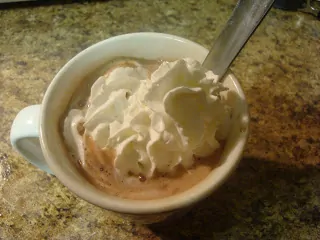 For those who've read this blog for a while, you know I have this secret fantasy to take Starbucks DOWN!!! (Well not down…but at least have a higher protein answer to every nominous offering they have). This is why I took on the art of the Frappucino (using Click as my medium) and it's what inspired my latest protein drink obsession.
This post, though, I'd like to take a different approach to how I present it to you. I know not everyone cares WHY I make the choices I make in a recipe – some of you just care whether it tastes good. But for protein drinks especially, I think it's important to know something about balance of flavors and why certain things work and some don't. I know you guys tinker with recipes…and I WANT you to…that's the whole point of this blog. Not for you all to make all my recipes to the letter (although if you dig them as-is, go for it!) but that I present an idea and you use what YOU know to make it your own.
So without further adieu…let's get to the drink…and the rationale behind it.
Nik's Protein Peppermint Mocha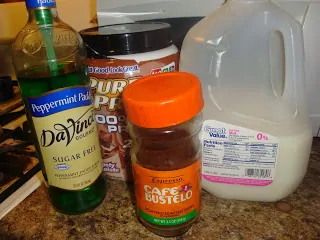 Ingredients
1 scoop chocolate protein powder (I am partial to this)
1 tbsp unsweetened cocoa
1 tsp good decaf coffee or, my preference, decaf instant espresso
2 tsp. of your favorite no-calorie sweetener
About 4 oz. cold milk
About 6 oz. boiling water
2 tbsp (about 3 pumps) of either sugar-free Peppermint syrup or, my preference, sugar-free Peppermint Paddy syrup
(Yes, yes…I know 'Bux uses some sort of mocha syrup for their drink but seeing as my particular Starbucks won't sell it to me [they usually don't at the height of a new drink flavor], I can only do what I do! Plus I like the Peppermint Paddy syrup a lot.)
Ok, so let's break this down. Yesterday I went over how to make a hot protein drink. I made my drink using this process. You can too. Or you can use whatever method you like best. So let's talk about the ingredients.
The thing I find so satisfying about the Starbucks Peppermint Mocha (versus the other versions floating around…some of which I did manage a sip or two of) is that they got something that nobody else seems to get…when you pair up the sweetness of peppermint against the bitter flavors of cocoa and coffee, magical things happen!
'Bux doesn't try to mask the bitters of the coffee and chocolate, but rather celebrates it. My first few tries of making this drink at home I didn't use unsweetened cocoa and was conservative with my coffee. Big mistake. It came out too sweet! When I added in the unsweetened cocoa, calmed down with the sweetener and added the proper amount of coffee, the bitter rang through loud and clear – and it was EXACTLY what I was looking for.
Keep in mind, Foodies, that most people's tongues like contrasting flavors: sweet and salty, sweet and bitter, sweet and spicy. These are all good combos that will excite your tongue! So don't be afraid to play those off of one another. It might get you some raised eyebrows when you talk about it with others…but who cares? As long as you have your food bliss, who needs to be understood?