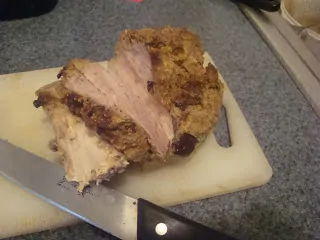 Before we talk about that…have you entered yet to win FREE protein iced coffee from Chike? If not, go do it now. I'll wait…
You back? Lovely!
So I tell you guys all the time to play with your food. And many of you do so by playing with MY food. But I rarely show you whose food I'm playing with.

This comes by way of Melissa D'Arabian. I like her a lot. Her $10 dinners message is so perfect for my family. I am on a perpetual budget. I want to feed my family healthfully but I can't…like CAN-NOT…spend a lot of money doing it.
Her dinners are always tasty but give you just enough complexity to make you feel like you're eating something expensive when you are not.
I've never made a pork roast before so this was truly and experiment. But it turned out well. I admit I was dubious about the dry rub and herb crust which included ingredients I don't normally use together like cinnamon, cayenne pepper, cilantro and Dijon mustard. But the result was a savory, earthy taste that I liked.
The divas, however, were perplexed. They liked it but for some reason felt like maybe they should not? I dunno. I don't try to get in their heads.
At any rate,
check out Melissa's recipe
(hers looks way prettier…mine is after being attacked by the divas and my younger brother) and then tune back in later this week to see how I am using the leftovers. Alas, the divas returned to their father's house last night so I have 1/4 of a pork roast to finish all by my lonesome. But you know what that means…RECIPE REMIX!
Play with your food!