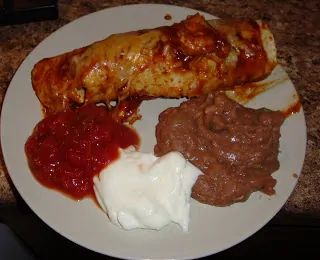 Cinqo de Mayo is now my absolute favorite fake holiday. I have it on good authority from a few Mexican friends that Mexicans generally don't celebrate the holiday and that it's basically just a (damn good) excuse to drink.
I had INTENDED to celebrate the holiday with this beautiful dish to the left, however, a sick child inspired me to go with a big ol' pot of homemade turkey vegetable soup and some Carbquik drop dough biscuits (if you don't have Carbquik…get some…NOW! The stats on that stuff are crazy! You get a biscuit…A BISCUIT…for like 20 calories, 1g of carbs!) To quote the annoying stereotypically Southern lady in the new Popeye's commercials, "who ever heard of such nonsense?"
Anyway back to the matter at hand. The above. YES, it is WLS friend, even low cal and low(er) carb. It is an enchilada with a side of fat free refried beans, greek yogurt (hit with a dash of onion powder) and mild salsa.
Nikki's Enchiladas
6 La Tortilla Factory low-carb, whole wheat small tortillas
2 Purdue Perfect Portions chicken breasts, diced small
1/2 a green pepper diced
1/2 a white onion diced
1 tsp minced garlic
1 cup of 2% Mexican blend cheese, divided
1/2 can enchilada sauce (I use a brand called Carlita)
Some non-stick cooking spray
Optional: red pepper flakes
Directions:
Spray pan with cooking spray and cook chicken until done.
Add peppers and onions and cook through. Add red pepper flakes to the mixture if desired.
Warm tortillas in microwave for about 15-20 seconds.
Lay tortillas on a flat surface and spoon some of the chicken mixture down the middle. Sprinkle some cheese on top of that and then roll into a long tube.
Pour a bit of enchilada sauce in the bottom of a 9×9 casserole dish.
Place each enchilada in a sprayed casserole dish, seam side down and make sure to pack them snugly
Once all enchiladas are rolled, top with enchilada sauce and remaining cheese
Bake in a 350 oven for about 20 minutes or until cheese is melty and gooey
Today is my late grandfather's, Manuel Fernandez's, birthday. He would have been 77 years old. He died 5 years ago from liver cancer following a long battle with Alzheimer's Disease. I love and honor you today Pop-Pop!