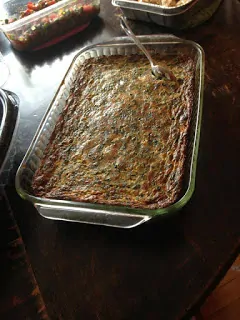 It's very rare that I am at a loss for words. You guys see me. I wrote whole BOOKS before I get to my recipe.
For this dish I only have a few words: it is DAMN good!
Wait, no I have a few more. A funny story. This is La Grande Diva:
She HATES eggs. At the barbecue we're sitting around talking and her sister had a slice of this quiche on her plate. She picked it up, examined it and went, "what's this?" My Foodie friend Julia was about to say that it was quiche when I hushed her.
Now you should know that La Grande Diva is a "food inspector." When she doesn't know what something is (and doesn't know if she'll like it) she peers at it, turns it from side to side, sniffs it, she may even dissect it. In this instance she suspected eggs but could not definitively prove it. Because it LOOKED like a fluffy pile of cheese and spinach, both of which she likes.
A hush fell around the table as we watched her theorize. "Is there cottage cheese in it?" Ronnie smiled and said yes. While cottage cheese on its own is unacceptable to La Grande Diva, its use as an ingredient is not (at least not automatically). So she sniffs again and takes a teeny bite, bracing herself to dislike it but…wait…this is good, her face seemed to say. This is REALLY good. So she took a bigger bite, and a bigger bite until the entire slice was gone.
VICTORY!
For those wondering, no, I did not tell her she'd eaten eggs. Where's the fun in that?
Anyway, here's Ronnie's recipe. I've made a few swap suggestions as well.
Ronnie's Crustless Spinach Quiche
Ingredients
Cooking spray of choice
1 (10 ounce) package frozen chopped spinach
4 eggs (You could also use 1/2 cup Egg Beaters if that's what you like)
1/2 cup sour cream (if you want to up the protein, you can also use 1/2 cup full-fat Greek yogurt. The point here is that the fat makes it a bit decadent.)
1/2 cup Greek Yogurt (In whatever fat % you usually use)
1 cup small curd cottage cheese
1/2 cup grated Parmesan cheese
1/4 cup unbleached all-purpose flour (If you go with whole wheat flour, get whole wheat cake flour and if you do Atkins Mix/Carbquick, run it through a flour sifter first!)
1/4 teaspoon freshly ground black pepper
1 cup shredded or grated Cheddar cheese
1 cup shredded or grated Monterey Jack cheese
Optional: if you use Atkins Mix/Carbquick, I'd also put about 1/4 tsp. baking powder in with the mix!
Directions:
Preheat the oven to 325 degrees F. Spray an 8 by 8-inch baking dish or 9 inch pie pan with cooking spray.
Unwrap the spinach and put it on a plate. Microwave on high power for 4 minutes. Allow it to cool. Squeeze all of the liquid out of the spinach and put it into a large bowl.
Combine the eggs, sour cream, cottage cheese, Parmesan cheese, flour, and pepper, in a medium bowl. Stir together until the mixture is smooth (about 1 minute). Pour the mixture into the bowl with the spinach. Add the Cheddar and Monterey Jack cheese and blend with a spoon until well mixed. Pour the spinach mixture into the baking dish. or pie pan, and smooth out the top with the spoon.
Bake until set, about 45 minutes, and remove the baking dish from the oven. It will fall as it cools. Allow it to cool, then cut it into squares and serve.
Welp, I guess I've outed what happened. Although I'm not sure if my daughters check the blog. But someday she'll see this post and I can see the look on her face now. It's totally worth waiting for. Until then, keep playing with your food!
This recipe brought to you by:
Ronnie, proud member of the Foodie Nation since 2012.