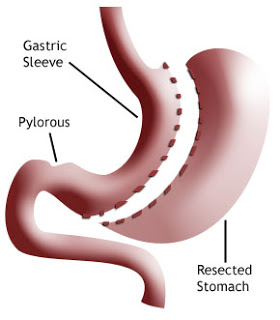 Last month we talked about the vitamins lap band patients need to take daily, and now we're going to talk about the vitamins vertical sleeve gastrectomy (VSG) patients need.
The requirements for VSG and lap band patients are fairly similar. That's because both are restrictive procedures, which means that they limit the amount of food you can eat, and don't contain a malabsorptive element, which means that since your surgeon left your intestine alone, you can absorb nutrients from the food you eat. It's just that you can't eat enough food to get all the nutrients, or calories, that you need, at least at first. That's what elicits weight loss.
One adult multivitamin, containing 100% of the recommended daily allowance (RDA) of at least 2/3 of all nutrients, including 18 mg iron and minerals like zinc and selenium
1500 mg calcium citrate (not calcium carbonate or tricalcium phosphate), divided into three doses of about 500 mg each, taken at least two hours apart
B-50 complex is optional
Other vitamin and mineral supplements may be needed, based on the results of your blood tests
Now, you may have noticed that there a lot of different multivitamins out there, some labeled as being designed specifically for bariatric surgery patients. The ASMBS guidelines say that you can use one of these specialty bariatric vitamins if you want, but it's not necessary. In fact, some vitamins marketed to bariatric surgery patients really don't have all the vitamins and minerals that the ASMBS says we need. For instance, the Wellesse bariatric liquid multivitamin contains no copper, zinc, selenium, magnesium, manganese, iodine, or potassium. The Twin Lab Bariatric Support chewable multivitamin contains no selenium, manganese, chromium. or molybdenum.
"In fact, some vitamins marketed to bariatric surgery patients really don't have all the vitamins and minerals that the ASMBS says we need…"
Read the label on any multivitamin you are considering using to see if it has 100% of the RDA of most things in it and look for minerals like zinc and selenium. I hate to break it to you, but most children's vitamins shaped like cartoon characters and vitamins that taste like gummy bears are not going to make the cut.
If your multivitamin doesn't have at least 18 mg of iron, take an additional iron supplement so you get a total of 18 mg a day. Yes, that includes men and women, and yes, even postmenopausal women need some iron. Without enough iron, we can't transport oxygen in our blood to all our internal organs. Iron deficiency, also known as anemia, can cause fatigue, dizziness, headaches, and restless leg syndrome. It's bad business and you want to avoid it! Remember to take your iron at least two hours away from your calcium supplement, since calcium blocks the absorption of iron.
Adult multivitamins are available in liquids, chewable tablets, and pills meant to be swallowed. Many patients start out with liquids or chewable tablets and then switch to pills that they swallow after a month or two. The ASMBS says it's OK to make the switch whenever you can tolerate swallowing pills. And if you prefer chewables, it's not necessary to switch at all.
Make sure the calcium you choose contains calcium citrate, not calcium carbonate (which is derived from certain types of stones or from shells like oyster shells), or tricalcium phosphate,  (also derived from certain types of stones or from the bones of animals like cows and pigs). The ASMBS recommends calcium citrate because it's absorbed better. It also does not increase your risk of kidney stones the way calcium carbonate does.
Talk to your bariatric surgeon or registered dietician if you have questions about the best vitamins for you. You're also welcome to contact me at 
[email protected]
. I can't give you medical advice but I'm happy to answer questions if I can.
Next month I'll tell you about the recommended vitamin regiment for Roux-en-Y gastric bypass patients. Until then, my Foodie Friends, take your vitamins!

About Kelly

Here's a Kelly Fun Fact: She authored the BF Basics: Veggie Tales Series! Check it out and learn what it takes to be a post-op vegetarian!
Got a question for Kelly? Send it to 

[email protected]

 with the subject line "vitamins."
Like this article?
There's more where that came from. Subscribe to my e-mail list to get the good stuff straight to your inbox!