Trader Joe's Vanilla Soy Protein
by Traci McGowan, Foodie Review Correspondent
I have taken some sort of protein supplement every day since my RNY surgery. From the weight loss doctor's office to the gym, from Wal-Mart to the internet, I have tried more protein powders and bars than I have fingers 'n toes: Body Fortress, Cytosport (AKA: Muscle Milk powder), Eas AdvantEdge, Met-Rx , Click, Pure Protein, Lara Bar, Atkins, Optimum Nutrition, Isopure, Quest, ViSalus, Power-Something (I really can't remember the name).
Being the technology freak that I am, I just assumed it was a given someone somewhere would create a protein supplement that didn't taste like it had been scraped off the bottom of a hoof. Almost all of those supplements I tried (almost, not always) would have that horrible whey aftertaste, and I had pretty much given myself over to the thought I would spend the rest of my LIFE resisting the urge to hurl after each "meal".
That is until one day when I trolled around Trader Joe's in my hometown and on the top shelf of the supplement aisle discovered a modest display of protein powders. I almost walked away until I saw "Vanilla Flavored Soy Protein Powder". I picked up a canister and figured I had nothing to lose. Trader's has a money back guarantee, so at the least I wouldn't be stuck with two pounds of powder.
I have been SO unbelievably happy!! This stuff has:
No whey aftertaste. None. Nada. Zip.
No stinky whey smell.
No farting (well, that's probably MY issue alone).
I have added (contaminated) items to my shakes, but my favorite way to drink them is to put 2 scoops of powder (which is one serving) into my Ninja along with 8 ounces of vanilla soy milk and a little bit of sugar free pudding powder (flavors vary) and whip that sucker for two minutes (see Nik's
Triple X Method
for blending thick protein shakes). The shake thickens up just enough for me. It's really tasty. The vanilla flavor does not overpower the shake, which is good news for those of us with uber sensitive pallets post-op.
You can add fruit, ice, sugar free syrups (
caramel
is the BOMB!), Splenda, Greek yogurt…whatever your little heart desires.
The stats are pretty decent:
Calories 120
From fat 10
Total Fat 1.5g
Total Carbs 1g
Protein 25g
There's a flood of vitamin information on the label, but the thing which stood out to me the most was the ingredients list. My trainer gave me a great rule of thumb: the shorter the list the better it is for you. I found with the other protein supplements I would get very nauseated.
Verdict:
Foodie Says…Fabuloso! Trader Joe's has made a great product which works fantastic for us bariatric patients!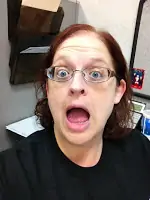 About Traci
Traci is 14 months post-op from RNY Gastric Bypass. As of the publishing of this newsletter article she's down 145 pounds.

In her spare time, Traci enjoys number crunching, spin class, nurturing her burgeoning tech addiction and hoarding Kleenex (and no, she's not kidding).

Have a question for Traci about this review? Or perhaps you'd like to request a review on a product you want to try. Either way, email her at bariatricfoodie@yahoo.com with the subject line of "Foodie Review." While she can't guarantee she'll ever review the product you suggest, it's good to put this stuff out into the universe, no?