Can I just say this is the FOURTH time I've written and
re-written this FitBloggin recap post?
In the end, I determined there will be several blog posts.
In upcoming posts I'll highlight some of the food I experienced and the cool
products I got to try, but for today I'd like to focus on people.
FitBloggin brings together lots of interesting folks who are
all working toward healthier lifestyles. I can't possibly list everyone who
inspired me in one post, but luckily I don't have to because
FitBloggin made a list
! Check it out to discover some great bloggers with excellent advice and
cool giveaways!
But for now here are a few folks I'd like you to meet!
Roni Noone
Her "blog": Well she has several: Skinny Minny Media and who (she also coordinates FitBloggin'. She's awesome!) Roni's Weigh chronicles her weight loss journey, while Green Lite Bites features healthy recipes.
Her story: Roni is a former teacher who decided to get her health and weight under control. So like many of us at the conference, she started a blog to help keep her accountable. And the blogging bug bit her! Now she brings all us crazy bloggers together for the Fitbloggin conference every year. And we love her for it!
Why she inspires me: Roni is an entrepreneur. I too have that spirit in me (which is why I do crazy things like write books in the span of a month!). But I also love how she's paired a passion of hers (health/fitness), with her skill as a communicator, with the desire to help other bloggers. I can't say enough about Roni – she's awesome! Go follow her!
Alan Ali
His story: Alan decided that enough was enough. It was time
to lose weight! On his blog and on social media he shares his workouts, eating
regimens and inspiration.
Why he inspires me: His workouts are – pardon my French –
kick-ass! He's done half-marathons and now I believe he's going to do an Iron
Man. Watching him makes me believe I can do it too!
Martinus Evans
His blog: 300 Pounds and Running
His story: When Martinus decided he wanted to lose weight by training to run a race, he decided to go big or go home – so he signed up for a marathon! Now he chronicles his eating experiments (including "time served" on the Paleo diet), fitness, shoe reviews and more on his blog.
Why he inspires me: Having met Martinus in person I can say he writes the way he speaks, which is refreshing! He takes on tough topics (like "Running While Fat," a series of posts about the challenges of being a bigger person who runs) and is 100% real about the struggles he faces in trying to achieve his goals. So if you like reality with a smile, Martinus is your guy!
Allie Burdick
Her blog: Vita Train 4 Life
Her Story: Allie gave an Ignite Talk about her process of being a diathelete (diathalons consist of running and biking but no swimming), including how she competed nationally right after having twins! She chronicles her training, life as a mom and her race travels on her site.
Why she inspires me: Um…hello? Do you see the shoulders??? But besides that I can relate to being a mom trying to keep up with a routine (although mine doesn't even touch hers!). I think she's an inspiration for all moms looking to get fit!
Sarah Bramblette
Her story: Sarah is very active in the WLS community and is
a vocal advocate against weight bias. She also speaks on behalf of those living
with lymphedema (a disorder that causes a build-up of excess fluids around the
limbs) and lipedema (a disorder that causes a build-up of excess fat in the
various parts of the body).
Why she inspires me: Sarah doesn't hold her tongue on
anything! She speaks truth to justice on her blog, on Facebook and everywhere.
She also has a no-nonsense attitude I find refreshing. No sugar-coating. Life
comes with problems and, according to Sarah, the best way to deal with them is
with a plan!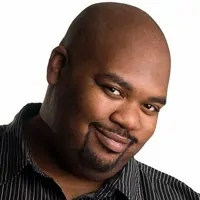 Andre Smith (aka "Mission Meltdown")
His story: Dre has been working for a few years to get his
weight under control and chronicles his journey on his blog. Recently he's decided to take a different path toward health (I don't have his permission to post about it so I'll let you check out his blog for the details). I'm sure he'll share that with as much good spirit as he does everything else!
Why he inspires me: Dre has an infectious personality. When around
him, you can't help but smile. But he's also so supportive and upbeat. When I
feel like getting down on myself I turn to him for a little (sometimes big)
lift.