~~posted by Jen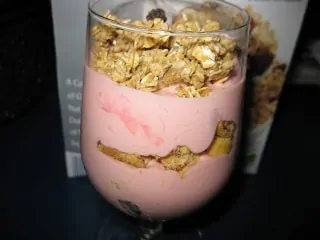 Call it dessert, call it breakfast, I just call it SCRUMPTIOUS!


Happy Black Friday! For those of you who were up and waiting in line at 3 am, bless your hearts! I might be awake at 3 am, but there is NO WAY IN HELL I am getting out of my warm bed to brave the cold, crowds, and craziness that make up Black Friday in Jersey. There have been several near-deaths in the past couple of years here, seriously!
I slept right through this, even though most of y'all were somewhere waiting in line and got to see it first hand.
I did find this great article on Yahoo Finance, "Seven Black Friday Deals Worth Buying Now" so I thought I'd share it with y'all. As for me, I'm doing a very very VERY scaled down Christmas this year (nieces and nephews, if you're reading this, Aunt Jenny is b-r-o-k-e BROKE this year. Sorry!) so my shopping will be quite limited.
I'm scoping out some good online deals and will share a Top 5 with y'all later this weekend. In the meantime, I made dessert for breakfast and wanted to tell you all about it! This works for newbies cleared for purees right up through all the other stages. It's quick, easy, and delicious. Best of all, lots of protein and yumminess all rolled into one dish!
Here's how it's done:
Jen's Daybreak Protein Parfait


Ingredients:
1 Atkins Daybreak Protein Bar (I used Fruit Crumble flavor)
1/2 cup Greek Yogurt
1/4 cup Sugar Free Preserves (strawberry or raspberry) OR if you're further out, fresh fruit of your choice (I used strawberries)
1 scoop Vanilla Protein Powder
3 packets Splenda (adjust to your sweetness preference)
2 pumps (tablespoons) Davinci Sugar Free Raspberry syrup
2 tbsp Fit 'N Active low sugar granola or Kashi Go Lean Cereal(optional–for garnish and some crunch)


Directions:
Chop the protein bar into pieces in your mini chopper. In a mixing bowl, whisk the protein powder into the Greek yogurt until thoroughly combined and mixture is smooth. Add the fruit/preserves, Splenda, and Raspberry Syrup then whisk again, mixing well. ****NOTE: If you're using the preserves instead of the fruit, you may not need the Splenda or Davinci for extra sweetness. If mixture seems too thick, add a small splash of milk to thin it out, based on how thick you prefer your yogurt.****


Layer the protein bar crumbles, and Greek yogurt mixture in a parfait glass, then top with the granola. Continue layering until the glass is full or you run out of components, whichever happens first. This was a perfect sized meal for me at over 2 years out, your mileage may vary. For earlier outs, I would say halve this recipe and omit the granola if you aren't cleared for it yet.


This is a light and delicious sweet start (or ending) to a hectic day. You'll need a protein boost to prepare for all that shopping! Enjoy!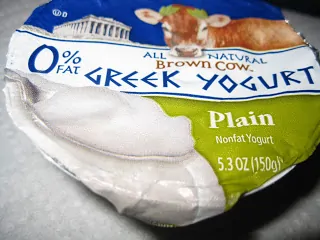 Score! Wegman's has these single serve Brown Cow plain Greek yogurt for 99 cents! Perfect size for parfaits.