~~posted by Jen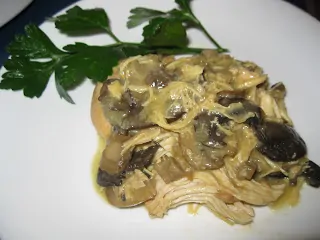 I shredded my chicken and put the mushrooms and gravy over it




It's a crazy busy time of year for most all of us, and we need a quick meal the whole family can enjoy that will still meet our protein needs AND sit well in the pouch, right? Y'all have heard me go on and on more than once about how much I pink puffy sparkly heart my CrockPot.
That is one of the tools in my kitchen that I absolutely could NOT live without. Since I've been home from work on short-term disability, it has gotten a rest compared to how much it's usually in use. But since I go back to work full time next week, it will be back on duty and getting a full workout!
For those of you who have trouble tolerating chicken, this recipe might be the exception. The key to tolerating any meat post-op weight loss surgery (especially RNY) is that it has to be VERY moist and VERY tender. That helps it pass easily through the stoma without getting stuck. Of course you still have to chew, chew, chew! But if the meat is very moist and tender, that makes the chewing part much easier, too.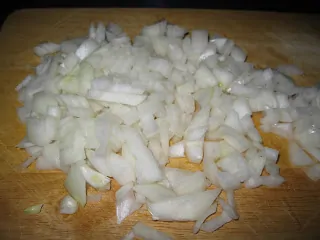 Chop the onions in a rough dice, doesn't have to be perfect
I made this a few Sundays back for the boys, and they loved it. They had it with rice, I had mine without. If I'd had some cauliflower on hand, I probably would have made cauliflower "rice" since the gravy is so tasty. But it was quite good without a faux-carb. Most of these ingredients you probably already have on hand, so toss it in the crock pot on your way out the door in the morning, and come home to a delicious dinner!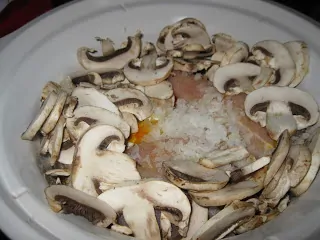 Building the layers in the crockpot
Here's how I did it:
Jen's Crockpot Chicken and Mushrooms


Ingredients:
2 (16-ounce) packages fresh sliced mushrooms
1 medium sweet onion, chopped (or 1 bag frozen chopped onions)
1 (14-ounce) can Reduced Fat Cream of Mushroom Soup
2 cups chicken stock (I used homemade)
1 family pack boneless skinless chicken breasts (8 breasts), or you could use thighs also
1/2 cup water
1 package Goya Sazon
1 tsp Salt
1/2 tsp Pepper
2 tsp Garlic Powder
2 tsp Onion Powder
Directions:
Spray the Crockpot with cooking spray, or place a crockpot liner inside it (these things are a life-saver and make clean up a snap). Place the onions and mushrooms in the bottom of the cooker, then add the chicken pieces atop the vegetables.
Add the soup, stock, water, and seasonings. Cover and cook on low for 8 hours. I usually put this on in the morning and it's done in time for dinner. Taste it and adjust the seasonings just before serving. Serve warm.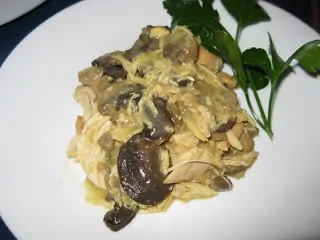 The finished plate