~~posted by Jen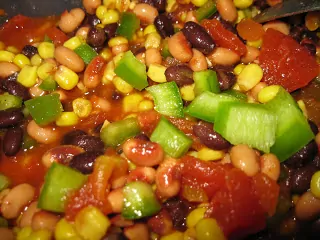 Up close with Cowboy Caviar
Happy New Year! We hope you had fun last night and are enjoying your day today with family and friends. Last night was pretty low-key for me since the roads are still bad here. We stayed home, watched some movies, and I set out several appetizers for the boys and I to nibble on while watching the ball drop. Today there are some football and most likely hockey games on, so I am thinking more appetizer type items are on our menu for the day.
I made some food to take over to Ken and Pop and I'm going to drop it off at their house later, along with their Christmas presents, and spend some time with my boys Zeus and Mickey. I don't know about you, but back home in Georgia we always had a traditional New Year's Day meal of collard greens (for money), black-eyed peas (for luck), rice, and cornbread. There may have been some other components, but those are the main ones I remember.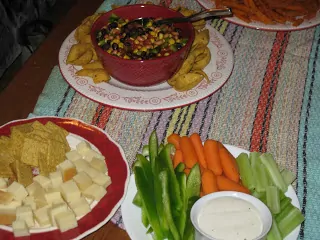 New Year's Eve appetizer feast: Cheese platter, veggie platter with Greek Yogurt Ranch dip, and the Cowboy Caviar
Since I live in a culturally diverse household these days, no one but me was really down with the whole greens and cornbread idea, so that's yet another reason I am not cooking a big meal today. I did make this awesome dip last night and wanted to share it with you in case you still needed a quick appetizer or just some nibbles to set out for guests coming over later today.
I call this "Cowboy Caviar", but it's basically a bean and veggie salsa. If you Google "Cowboy Caviar" there are quite a few different variations of this dish. My late Momma used to make this with the leftover black-eyed peas we always had on New Year's Day, and I have always loved her version.
It's really easy to make and sits well on the pouch, plus the beans give it a nice kick of protein and fiber. I made a few changes from how Momma originally made it, but that's what she would have wanted me to do!
Here's my version:
Jen's Cowboy Caviar
Ingredients:
1 medium green bell pepper, cored, seeded, & diced
1 (10 ounce) can tomatoes with green chiles (I used Ro-Tel)
1 (15 ounce) can black-eyed peas, rinsed and drained (or use leftovers if you cooked some)
1 (15 ounce) can whole-kernel corn, drained
1 (15-ounce) can black beans, rinsed and drained
1/2 cup mild salsa
2 tsp salt
2 tbsp Garlic Powder
1 tbsp Onion Powder
4 tbsp lime juice
(If you like spicy, you could add some hot sauce or use hot or medium salsa)
Directions:
Wash the pepper, remove the stem, seeds, and core. Slice it into strips, then dice it into small pieces.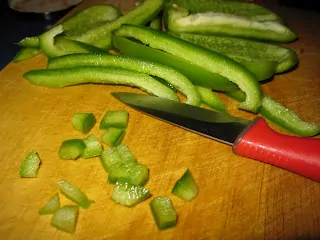 Pour each can of beans into a large sieve or colander, then rinse and drain the beans thoroughly before adding them to the mixing bowl. This step is important because it washes the extra starchy canning liquid from the beans, plus it gets those few stragglers that always stick to the bottom of the can.
Combine all ingredients in a large mixing bowl, and stir until thoroughly combined. Taste for seasoning and add more salt or other seasonings to suit your taste.
Serve chilled or at room temperature. I usually serve this with tortilla chips or corn chip scoops. This is also a delicious topping for a grilled fish fillet or steak, a very versatile condiment. Much like chili or spaghetti sauce, this gets better and better after a day or so in the fridge. Enjoy!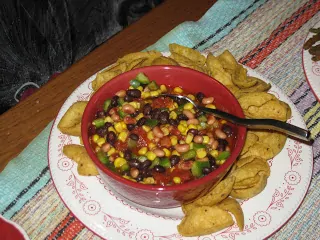 Cowboy Caviar on the NYE appetizer buffet, served with Fritos Scoops.