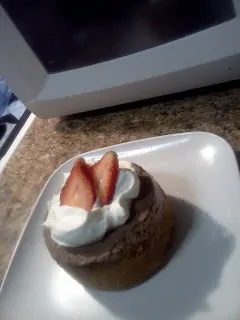 Boy, oh boy, a lot of my microwave made it into this picture, didn't it?
…Or two (maybe three) people who really, really, REALLY like cheesecake.
While in Michigan, I happened upon a 4 inch springform pan. My plan was to make a cheesecake in my Magic Bullet to submit for the Kitchen Magician contest. By the way, THANK YOU to everyone who voted for me. Sadly, I was not a finalist. But I think it's because they let folks get votes before the submission period ended so those of us who were late to the game didn't stand much of a chance 🙁
I don't want to be a sourpuss though. I'm going to focus on 500+ people who DID vote for me. I appreciate you all!
So those of you who have been reading this blog a while know there is no shortage of cheesecake recipes up in here. We've got cheesecake protein shakes, portion controlled cheesecakes, full-sized protein cheesecakes, cheesecake trifles…even a damn protein cheesecake cheeseball. Basically far more cheesecake stuff than should ever be on a blog for people trying to lose weight (but…to my credit the cakes are low-fat, low-carb and most have good protein stats).
I figure…why not throw this little gem into the ring with the rest?
Nik's "Two's company, three's a crowd" Mini-Cheesecake
Ingredients:
1 c. Fiber One Original cereal, crushed (I used my Magic Bullet)
3 tbsp low-fat cream cheese
2 tbsp Splenda
1 tbsp Davinci sugar-free vanilla syrup
Filling
4 oz. low-fat cream cheese
2 oz. unflavored Greek yogurt (I used 0%)
1/4 c. liquid egg substitute (or one egg)
1/3 c. cocoa powder
1/2 c. no-calorie sweetener (start with 1/2 c. and then taste the mixture. If the sweetness hasn't overtaken the cocoa, add more by the tablespoon-full until you get there)
Optional: 2 scoops unflavored protein powder (I did not use this time)
Directions:
To prepare the crust, mix the cereal crumbs with the cream cheese and syrup until it resembles brown sugar crumbs.
Press into the mini-springform pan (this makes enough to make a bottom and side crust) and bake at 350 for 10 minutes (I used my toaster oven).
In a large bowl, combine the cream, Greek yogurt, eggs, cocoa, sweetener and lemon juice. Beat on low with a hand mixer for two minutes, then switch to medium speed for another minute or two.
Spoon into cooled crust.
Wrap the bottom of the springform pan in aluminum foil then place in a small baking pan (I used a 13×9) and fill the pan up with boiling water halfway up the side of the springform pan.
Bake at 350 about 25 minutes or until set (again, I used my toaster oven).
Cool completely before removing from the springform pan.
Like I said, this is the perfect cheesecake for sharing with one or two other people. The beauty of it is, you don't even really have to cut it. Just pass out the forks and go to town…