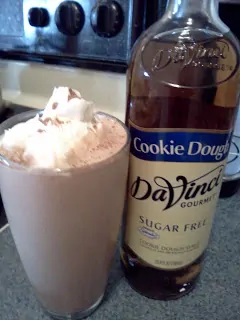 This is actually a two-fer. By accident of, of course. This post was supposed to just be about the Twix shake. Cuz it's almost Halloween. And I promised yummy recipes!
But here's what had happened.
I had one little portion of sugar-free caramel syrup left. I put it on the counter so I could photo the recipe. Well, while I was out my kids, motivated from my last rant about them walking by trash and not picking it up, threw the bottle away, thinking I was done with it. The lesson? Be careful of the timing of your rants, parents!
So I am still going to give you the recipe but there's this other recipe I've also been making with another of the syrups in the Twix recipe so I thought I'd show you that one too. This is me. Being generous. Weird.
Nik's Twix Protein Shake
Ingredients:
Nik's Chocolate Chip Cookie Protein Shake


Ingredients:
8 oz. milk
1 scoop chocolate protein powder (I used Chike Very Vanilla)
1 tbsp unsweetened cocoa powder
1/8 tsp. imitation butter extract
Ice
Directions for both: Combine all ingredients in a blender. Mix according to the Triple X Method. Or not. Your choice!
So now you have two MORE recipes to help you fend off the Halloween candy. Now…I know what some of you are thinking. "Nik, what's up with the syrups we have to purchase online???"
You're right. Many of my shakes do use syrups you have to purchase online as opposed to buying them in the store. BUT I do try to use them as I did here, in several different recipes so you have more than one idea of how to use them. BUT for those that are still wary, I have to tell you the
Bariatric Foodie Holiday Survival Kit
(click the link for details) is a great way to "try before you buy" some specialty items I use in my shakes.
If you haven't already gotten your Survival Kit, there are still some available! Remember, I'm only selling 200 of them this year and more than 100 are already spoken for! Also remember when you purchase one you are entered into a raffle to win a BodyMedia Fit Link Armband (
read our review here
) that measures the calories you burn every day to help you reach your goals!
Click here to learn more about the Holiday Survival Kit.
And keep playing with your food!