Believe it or not, I do listen to you guys. And what I hear you saying is that some of you want smaller batch recipes that yield only a few servings, maybe even a single serving.
Today is your lucky day! Here are five of BF's most popular recipes – mini-sized! Click the title of each for the original recipe.
Taco Casserole
(Make this after your family's next taco dinner with a portion of leftover meat OR make a small batch from scratch with the modifications I suggest! Makes a 4 oz. ramekin)


Mini-sized Ingredients:
2 oz. taco seasoned ground meat (leftovers) OR you can use 1 oz. TVP w/ a splick of salt, 1/8 tsp each of: ground cumin, ground coriander, garlic powder and chili powder mixed in.
If you happen to have some random chopped & cooked veggies laying around, feel free to mix 2 tbsp into the meat mixture.
1 oz. refried beans (TIP: Put the rest in a random ice cube tray, freeze then store them in a freezer safe bag for the next time you want one of these bad boys! Ice cube trays make perfect 1 oz. portions!)
1 oz. shredded cheese
Directions:
Layer the meat, then the beans, then the cheese in a 4 oz. ramekin.
Stick in the broiler for about 2 minutes or in the toaster oven until cheese is melted.
Serve hot with a dollop of Greek yogurt and salsa!
(Think of the original version as the Venti and this one as the Grande)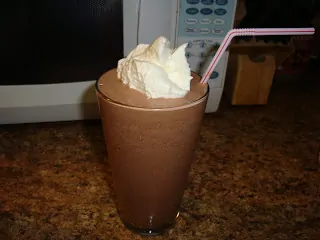 Mini-size ingredients:
1/3 c. milk
1/2 scoop of Click Espresso protein, flavor of your choice (they have decaf if you need that option!)
1/2 scoop protein powder (compliment flavors, so vanilla with vanilla latte, etc.)
1 tsp. unsweetened cocoa powder
1 packet no-cal sweetener (if desired)
3 ice cubes
Directions:

Combine milk, proteins, sweetener and cocoa powder in a blender and blend two minutes. Add ice and blend again until smooth.
(Makes one 4 oz. ramekin)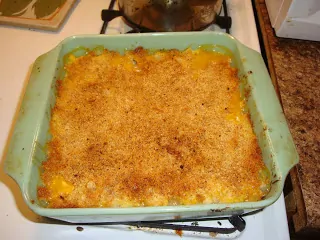 Mini-sized ingredients:
4-5 frozen cauliflower florets
1 oz. + 1/2 oz. of a shredded four-cheese blend
1 heaping tbsp unflavored Greek yogurt
Your favorite seasonings (I like salt, pepper, onion powder, garlic powder and a dash of smoked paprika)
Directions:
If you can handle microwaved stuff, microwave your florets in a microwave-safe bowl with a little bit of water for about 3 minutes on high. If you can't do nuked stuff, boil in a small pot.
Drain then mash the cauliflower (if you make it tender enough you can use a fork).
Add Greek yogurt, 1 oz. cheese and seasonings and mix thoroughly. Transfer to a 4 oz. ramekin.
Sprinkle remaining cheese across the top and either stick it under the broiler for 2 minutes or in the toaster oven until the cheese is bubbly and brown!
(I'd call the mini-sized version an "egg-taquito")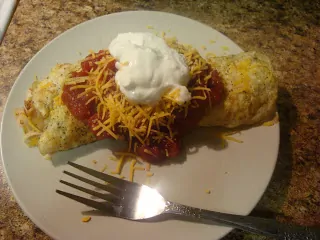 Mini-sized Ingredients:
1-2 slices of deli meat of your choice, chopped
Again, if you happen to have any chopped veggies, a tbsp or so of them
3 tbsp liquid egg substitute
2 tbsp. shredded cheese, divided
1 tbsp Greek yogurt
1 tbsp salsa
Directions:
Spray a pan with nonstick and sautee meat and veggies until warm. Remove from pan and set aside.
Spread egg in a circle in sprayed, hot pan and allow it to spread to desired size (remember, this has to be big enough to roll things into the middle). Allow it to set before flipping. Cook other side.
Remove from heat, fill with meat,veggies and one tbsp of cheese and roll into a smaller enchilada shape. Top with other tbsp of cheese, Greek yogurt and salsa!
Makes 1 regular sized, or a few teeny weeny, pancakes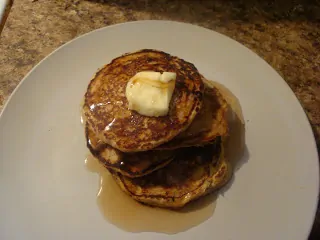 Mini-sized Ingredients:
1/4 c. Atkins Baking Mix
2 tbsp milk
1 tbsp liquid egg substitute
1 packet no-cal sweetener
Directions:
Mix all ingredients together in a bowl. If mixture is not wet enough, add milk one teaspoon at a time until a thick pudding consistency is reached.
Spray down a griddle or frying pan with non-stick and allow it to get HOT.
Dole out your mix (should make either one regular sized pancake or a few teeny-weeny ones) and allow them to cook on one side (bubbles will appear on the surface when bottom is cooked), then flip and cook the other side. Transfer to a plate and enjoy!