Next Thursday is a special day in three very special ways.
#1 – It is Cinqo de Mayo…let the margaritas pour!
#2 – I'm going to bare all to the blogosphere along with some of your favorite WLS bloggers
#3 – For way more personal reasons…it is my late grandfather's, Manuel Fernandez, birthday. He did eight years ago of cancer that formed as a result of meds he was taking for Alzheimer's. He was the center of my world and I honor him on that day!!!
So…for all these reasons, I feel like we should celebrate! To start us off, I thought I'd give you guys an idea of how Nik does Mexican. Because there are quite a few quasi-Mexican dishes on this blog. So…in no particular order…
Taco Casserole
Taco Casserole is still the recipe I get the most feedback on of any of the recipes I've ever posted. It has everything you love about Mexican food in it and has the added bonus of being newby friendly! WOOT.
Chicken Enchiladas

This one is the divas favorite. In fact, I was discussing our Cinqo de Mayo menu and they both requested my homemade enchiladas (although the little diva said she could also go for some "plain old tacos" as she put it). My version is low in fat, high in protein with great fiber to boot! I have graduated to eating a whole one (one day I lost my mind and thought I could eat two…yeah…the pouch corrected that thinking quick, fast and in a hurry!), but this recipe is cool because you can cut off a piece that's just right for YOU.
Protein Mojito
One of my favorite mocktails, this drink gives you the great flavor of a mojito without the embarrassing memories, hang-over or, for some of us, the walk of shame (just sayin'…)
Mexican Lasagna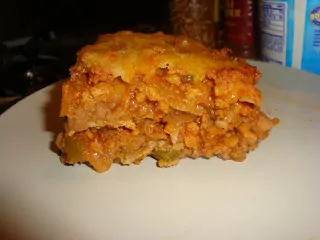 This is a nifty Rachel Ray knock-off
(although I'm quite sure she didn't invent it). It's sort of like Taco Casserole for the more mature pouch. This is not to say newbies can't partake, but there's a lot of fiber in this thing. Proceed at your own risk!
…And a new recipe…
I've been posting on Facebook and Twitter about my latest protein shake obsession: Mexican Chocolate Protein shake. This isn't an original idea (by a long shot). I'd seen Mexican chocolate things on Food Network and other places. Everyone seems to have their own version. Here's how I make mine:
Nik's Mexican Chocolate Protein Shake
8 oz. milk (I use Hood Calorie Countdown chocolate)
1 scoop chocolate protein powder
1 tbsp unsweetened cocoa powder
1/2 tsp good instant decaf coffee
A few (to taste) generous shakes of cinnamon
No-calorie sweetener to taste
Mix it up via
the Triple X method
. Or not. Your choice. I top with a dollop of fat free whippage and an additional sprinkle of cinnamon. NOM!
So those are my top five…there are many honorable mentions…like my Mexican Egg Casserole for instance or my taco bowls…but since this is a Top 5 I had to excercise some decisiveness and…you know…not give you ALL the links I wanted to give 😉
(I also feel compelled to note that even though my grandfather's name is Manuel Fernandez, I am not of Mexican descent – he is of Portugese descent – so my OBSESSION with Mexican food and all the resulting recipes are nothin' but love for a great style of cooking with yummy food!)
Look for a few new Mexican recipes this week!