~~posted by Jen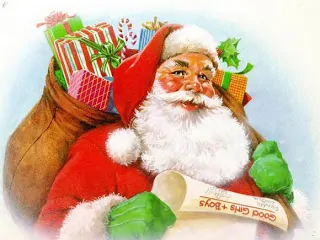 Santa can you hear me? Santa? I had to y'all, sorry for the Yentl flashback. I do love me some Babs, though. S'anyway! A couple weeks back on her birthday, Nik shared her "Top 5 Favorite Things" that are on her Christmas wishlist. So today, it's my turn!
No, this is not a "Dear BF readers, please buy me a present, kthanxbai" post. This is more to help you think of things for people on your list that you may not have thought of yet. We all have those who are somewhat difficult to buy for that we tend to leave to the last minute.
I am usually "that person" on my friends' lists, because they all know that most anything I *truly* want, I usually buy it for myself. But we have a hard and fast rule that from October 1st until January 1st, I am not allowed to buy myself anything. That way they have a chance to shop for my birthday (October 22) and Christmas without the chance of me having already bought myself the same thing.
These are my Top 5 "Christmas Wishes", in no particular order:
#1. A Keurig Brewing system. I have a Senseo, which I love, but we have a Keurig at my office and I am seriously coveting one for home use. Of course, Santa, if you're listening, I would be just as happy with a Tassimo. As you know, I'll need all the accessories, like the K-Cup Carousel and a variety pack of K-cups. (Santa, if you go for the Tassimo Ima need the T-disks and holder, too.) Y'all know I would not be me if I didn't want ALLLLLL the accessories, 'cause that's how I roll.
#2. A Dyson Handheld Vacuum Cleaner. We recently got the Dyson upright on sale to replace our old Bissell, and that thing is the bomb. As y'all know, I have dogs. They love to ride in the car. They shed on the seats of my six-month-old car. 'Nuff said. Especially since the Magical Cleaning Fairy is out of stock. 🙂
#3. SJP-NYC Gift Set. This is the new perfume from Sarah Jessica Parker. I have been wearing Lovely for awhile now, but they had this out at the mall the other day. Of course I had to try some, and I love love love the way it smells. Santa, are you listening here?
#4. Barefoot Contessa Cookbooks that are missing from my collection, including: How Easy Is That?, Back To Basics, Barefoot in Paris, and Barefoot Contessa at Home. I have the others, but these four would complete my Ina Garten collection and make me one very happy cookbook collector. This Journal would be really cool too, Santa. (Just Sayin!)
#5. Apple MacBook Air. Now Santa, you know I've been a VERY good girl this year. Yes, I know I got the Netbook for my birthday, but it's just not the same. It's handy to keep in the kitchen for blogging new recipes or typing FB status updates, but I need more power than the netbook can handle. My poor old sick tired worn out pink Dell has about had it. Oh and a groovy pink case for the Macbook would be awesome, too. I like the idea of the Ipad, but it's really just a glorified Ipod Touch, so I wouldn't get that much use out of it. (See how I give you options, Santa?)
There you have it, Jen's Top 5 Favorite Things. Santa, I hope this is better than you expected! For our readers, I hope this helps you with the "difficult" person on your list!