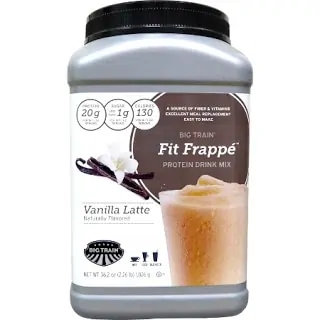 But first…the third finalist …Alyson W.!!! She took the one ingredient challenge here on the blog and suggested one of my favorite flavors of all time. Orange Sherbert!
She recommends adding a half a stick of sugar-free orange drink mix to Fit Frappe Vanilla, your preferred liquid and ice. By doing this, you can transform your shake into that old ice cream truck favorite! Congrats Alyson! Your recipe will go up against Penney's "Wake Your A$$ Up!" shake and Bridget's "Ode to Joyous Almond Shake" for a chance to win a full canister of Fit Frappe!
Today's challenge: Vanilla is a great BASE flavor, especially for a latte. What would you add to Fit Frappe Vanilla Latte (this time you can use as many ingredients as you want!) to make it YOUR latte?
You can share your idea on Facebook, by tweeting @BariatricFoodie or by leaving a comment on this blog post!
Now…back to our review…Fit Frappe Vanilla Latte! Again, your reviewers are Heather, Samantha and Gwen!
Stats:
(For 8 oz. portion):
Calories: 70
Fat: 1.5g
Carbs: 13g
Fiber: 3g
Sugar alcohols: 7g
Protein: 10g
You can find the stats for all the Fit Frappe flavors here.
(Heather made
this note about the stats: "Initially
the protein content was concerning me as being too low until I realized that the
instructions were for both ½ package as well as full.")
Aesthetics
Heather: Powder looked very smooth and of a
fine texture. Due to having no sense of smell, I did not bother trying to
determine odor of powder. A benefit perhaps as I have read of many
complaints of the whey protein smell. After blending, my shake was nice
and thick, exactly how I like it to be.
Samantha: It had a bit of a
chalky smell maybe. Not what I expected after smelling their other
product. I have another vanilla latte protein product in the house and
that product has a much better smell. This protein powder had no real
smell. Its appearance was what I expected for a latte based protein
powder.
Gwen: Looked and smelled like any other
protein powder I've used.
Preparation
Heather: I made the Vanilla Latte as I do all
of my other protein drinks, with skim milk and ice in my Ninja. The only
exception was instead of throwing in 5 or 6 big ice cubes, I weighed out 180
grams of ice so that I would be tasting the Big Train beverage as directed per
package.
Samantha: I prepared this one
hot according to the directions. I stirred it until it dissolved and
then I set it aside to snap a few photos and it had a separated. I
stirred it again and it was fine after that. (Nik Note: Samantha also
tried to use the other half of the sample to make a cold shake but reports it
didn't turn out well with the remaining half a sample. She theorizes the
attempt might have been better had she used the full sample.)
Gwen: I tried it hot.
Taste:
Heather: The taste of the shake at first was
underwhelming, probably because I still had some remnants of toothpaste
flavoring in my mouth, however as I progressed, the shake became very good.
The only quality I wasn't sure about was a very, very slight graininess
to the beverage. I'm not sure what that would be and the only similar
comparison I can relate it to is when I have added a necessary scoop of a
miralax like product to other shakes. I know everyone says miralax is
undetectable, but I can tell a difference, whether it is psychological or not,
who knows. Anyway, the texture of Big Train was similar to my own
perceptions, however it was not a detraction whatsoever to the drink.
Samantha: The taste of this
product was actually rather disappointing. No really coffee or espresso flavor
to it and not really any vanilla flavor either. It was pretty
bland on the first
sip. I have since drunk about half of a cup
and still no real flavor. I used half the package and I am wondering if I
had added more if that would help the flavor. Overall this product
was lack luster and a bit of a disappointment.
Gwen: I made it hot and it was a
disappointment. It had a bad aftertaste and was not the replacement for
my morning coffee that I was expecting.
After-effects:
Heather: I finished the drink in record time –
45 minutes and had no problems with the sugar alcohols.
Samantha: (Nik Note: Samantha did not report any
after-effects.)
Gwen: (Nik Note: Gwen did not report any
after-effects)
Verdict:
Heather: Overall, I found the drink to be very
enjoyable and would definitely add it to my rotation.
Samantha: I
might buy it just so I could try it again and add more protein powder to
the hot and see if it tastes better. Otherwise I will be sticking with
my other Vanilla latte protein powder.
Gwen: I'll stick to Click.
So there you have it, straight from the Foodies mouths! Mixed reviews but honest and I THANK all three of you for your opinions!
So you've read what your Fellow Foodies and I think about the flavors so far, here's how you can get the chance to try it for yourself!
As I said before, today's challenge is simple. Vanilla makes a great base for any latte flavor. What ingredients would you add to Fit Frappe Vanilla Latte to make it YOUR drink? What do you add when you go to 'Bux or when you make a latte at home? Share your idea on Facebook, tweet it to @bariatricfoodie or leave a comment here on the blog!
Your idea could score you the 4th finalist seat with a shot to win a full canister of Fit Frappe!