(Previously…on Bariatric Foodie…we were in the middle of exploring Fit Frappe, a protein drink for Frappe lovers by Big Train, makers of fine coffeehouse products 😉 So far we've reviewed the espresso, mocha, vanilla and vanilla latte flavors.)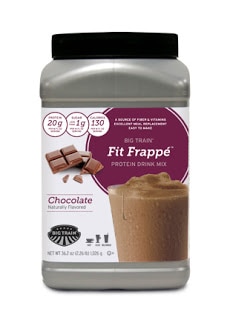 But first…
your 4th finalist.
Dana E. took
the challenge and shared what he'd add to Vanilla Latte Fit Frappe to make it
HIS latte. Here's his recipe:
Dana's Big Train Vanilla "Latteccino" Chai
1 heaping tbsp.
Big Train Spiced Chai
1 serving (8
oz. size) Vanilla Latte Fit Frappe
3 oz.
unsweetened vanilla almond milk
2 packets
Truvia
7-8 ice cubes
To prepare, Dana
recommends BF's very own "
Super Chill Method
for making a Protein Frosty" but
here's Dana's recap:
Turn on the blender
and whiz it up, and trickle another 2-3 ounces of unsweetened vanilla almond
milk into the blender (either through the top if it's safe to do so, or by
stopping the blender and adding it.
After 6-8 seconds
of whizzing around, stop the blender and shake the container as needed to keep
it whizzing around. Once all the big pieces of ice have been whizzed into your
drink, you're ready to conquer your Big Train "Latteccino Chai." It's so thick
and rich that you HAVE to drink it slowly – or risk getting a brain freeze!!"
Today's Challenge:
Today, I'd like to hear your favorite chocolate protein recipe. It can be a protein shake, a cold drink, a dessert, whatever! You can share your recipe on
Facebook
, by sending a
tweet to
@BariatricFoodie
or by leaving a comment on this post. For one of you, your recipe will win you a chance at a full container of Fit Frappe to try!
Now…on with
the review:
Stats (for the 8 oz. serving size):
Calories: 60
Fat: 1.5g
Carbs: 12g
Fiber: 3g
Sugar alcohols: 6g
Protein: 10g
Here
are the stats on all the Fit
Frappe flavors.
Aesthetics: Pretty basic. Nothing special there. I
did notice the chocolate is considerably darker than the mocha in color and
darker than any other chocolate powder I'd ever seen. I'm not sure if that
means something though.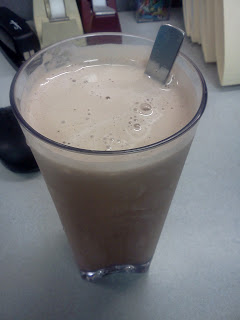 Both were good. But here's the thing. Some days I want dessert. Not often,
because dessert is a whole other meal I have to find room for in my day, but
just…sometimes. When I make dessert I try to make it beneficial.
I ended up
making a triple chocolate protein pudding pie but, as it sometimes goes with
me, my camera is not participating to upload the picture! So…I'll post both the
recipe and the pic later on this week. Sorry!
Taste: Ok, please don't think I take what I
am about to say lightly. You can go back and read other reviews on this blog. I
take chocolate VERY seriously. That being said…this is THE most chocolatey
chocolate protein I have ever tasted! Yowsa! It wasn't "chocolate-flavored." It
was chocolate. Wonderful, rich, decadent chocolate.
Verdict: You know how I was fretting about
cost? I just thought of something. My surgeon wrote me a handy-dandy note
saying protein is a medical need for life, which means my flexible spending
plan reimburses me for protein. In keeping with that…I AM SO BUYING SOME FIT
FRAPPE!
S'anyway, you've heard what
I have to say. Now I want to hear from YOU!
What's your
favorite chocolate protein recipe? Is it a shake, a dessert? Share your recipe
and you may just win a full sized canister of Fit Frappe to try at home!
Then on Thursday…
The fun
starts. VOTING! You guys get to vote on which of the finalists gets to win a
full container of Fit Frappe AND five of you will win a sampler pack containing
one serving of each flavor!
I've really
enjoyed this contest and I think it's so exciting that
Big Train
is reaching
out to the bariatric community in the way it has. When I first had surgery
there were only a few protein offerings for us coffee-lovers and now there are
many! That's why it's important to…
Please,
please, PLEASE show the folks at Big Train some love by liking
their Facebook page
or by
following them on Twitter
. The more they hear from us, the more
information they have to make a product we can embrace and love.
Now…where are
those chocolate recipes???