~by Nikki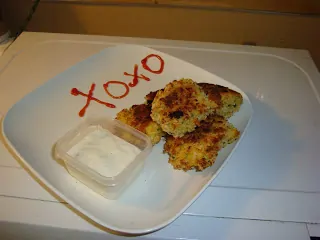 When having weight loss surgery, many of us are concerned about how our kids will react to our new lifestyles. We tend to indulge children with cookies, cake, candy and snacks – things we won't be able to eat anymore. Will we be able to handle it? Will our kids resent us if we try to change their eating too?
I understand. I have two girls, as you all probably know, and when I decided to have weight loss surgery, in a way, they decided to do it too. I can't afford to make several different meals a night, so they eat what I eat. We have one default dinner choice – grilled chicken Caesar salad (only because it takes like 5 minutes to make and I ALWAYS have the ingredients on hand).
But most of the time it isn't necessary to do a huge overhaul of what your kids eat. More often you just need to take a look at how you make the things they already like.
Take this dish for example. What kid doesn't love chicken nuggets (for the few of you who raised your hand…sorry!)? But most of us get nuggets a la McDonald's where everything from the chicken to the buns is stuffed to the brim with corn products, their chickens are genetically modified and who knows how they cook those suckers.
Yowsa. It's kind of scary when you think about it. Read Fast Food Nation, people. It's eye opening.
This is a stand-by kid and weight loss surgery friendly meal that my kids like a lot. The good thing about this is that you can play with the recipe to get the way YOUR kids like it. And you can get creative! We've made these using cookie cutters (not in the above…but we've done it) to make shaped nuggets, we've experimented with dipping sauces, the whole nine. Get funky with it!
Nik's Kid and WLS Friendly Chicken Nuggets
Ingredients:
1 lb. chicken breasts
1/3 c. unflavored Greek yogurt
2 eggs, beaten
1 canister
whole wheat panko bread crumbs
(when making just for me, I usually use 2 cups of my beloved Fiber One crumbs -just Fiber One whizzed through the blender – but I've heard back that they give a slightly "sweet" taste…I still love them!)
1/2 c. grated Parmesan cheese
1/4 tsp onion powder
1/4 tsp garlic powder
Salt and pepper to taste
Step One (the night before you are to make the nuggets): Place your chicken in a zip-top bag with the Greek yogurt. Make sure to get the chicken nice and coated. Leave it in the fridge overnight. ("But why Nik?") Those same cultures that are so good for your guts are also good for tenderizing meat. I marinate nearly all my chicken in Greek yogurt before cooking. It comes out tender and juicy and I cannot taste the yogurt in the finished product.
Step Two:
Pre-heat your oven to 350. Remove chicken from baggie and wrap in plastic wrap. Pound down to an even 1/4 inch thickness (in the below my
meat mallet
broke so I didn't get it down to where I wanted it. If you like yours thicker, that's fine. Adjust your cooking time up accordingly.)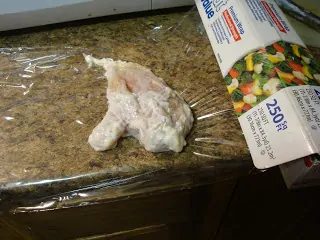 Step Three: Slice chicken into long strips.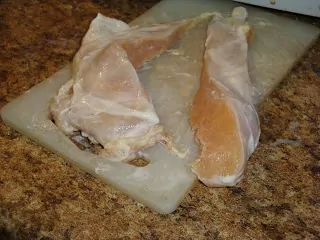 Step Four: Then, cut it into bite-sized pieces (whatever that means for your kids, your mileage may vary).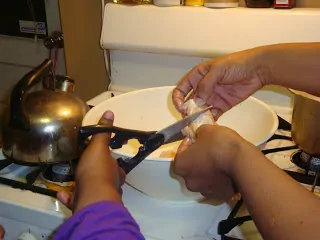 (By the way…the hand in the purple sleeve is La Petite Diva…get your kids in the kitchen peeps!)
Step Five: In a bowl, mix about a cup of your panko crumbs (keep them handy…you may have to re-load, which is why I didn't specify an amount. I use a different amount each time I make these!) with parmesan cheese and spices. Then set up a dredging station with your chicken on one end, followed by your egg, your crumb mixture and, finally, a cookie sheet.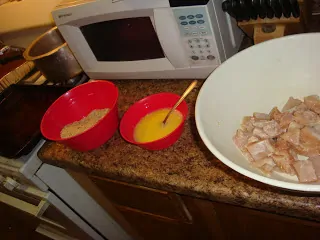 Step Six: Dredge your chicken pieces in the egg and the crumb mixture. For extra crispy nuggets, re-dredge. Line them up on a cookie sheet as you go.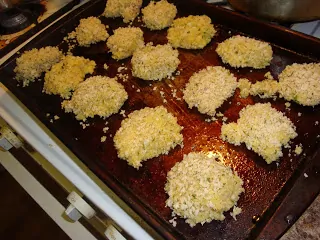 Step Seven: Bake at 350 for about 15 minutes. Flip them over and bake another 10-15 minutes. Cool before serving!
Now for the fun part…dip! You can make really cool dips based on what your kids like. Here are some combos we've tried and liked:
Dijon mustard + a bit of honey = honey mustard
Ranch dressing + a bit of BBQ sauce = BBQ ranch
Ranch dressing + juice from adobo peppers = Chipotle ranch
Greek yogurt + dry ranch dressing mix = protein ranch dip
Those are just a few ideas to get you started. Tomorrow I'll give you the recipe to a totally awesome "faux starch" to serve alongside!