~~posted by Jen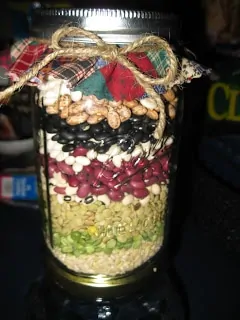 9 Bean Soup in a Jar


My older sister Angie is a military wife, her husband Mike retired from the Marine Corps a few years ago, and they have lived all over the country. Christmas has always been a very special holiday in my family. Our late Momma always absolutely adored Christmas, and talk about decking the halls!
Momma decorated every corner of her house at Christmas time, right down to the shower curtain and rugs in the bathroom. Maybe that's where my unnatural love for seasonal decorating comes from, who knows.
I know lots of our readers and fellow Pouchers are also military wives (or husbands), so y'all know how difficult it can be to not only be so far from home on Christmas, but lots of times finances are very tight. One year in particular comes to mind, speaking of tight holiday budgets.
Mike had been deployed for most of the year, and with 2 growing kids at home, he and Angie were working hard to pay off their bills so that when he retired they wouldn't be in debt. That year, they decided instead of spending lots of money that could pay off debt on Christmas gifts that, let's face it, not many of us really needed anyway, Angie and the kids would make homemade gifts for everyone.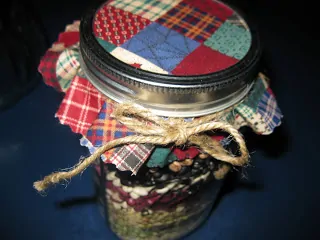 View from the top
Can I just tell y'all that was one of the coolest Christmas gifts I ever got, and it meant the most because they took the time to make it themselves? One of the things they made for me was a hand-painted pickle jar that had bean soup mix in it. They spray painted the lid and took paint and made little beans all over it and wrote "Beans" in paint on the side of the jar.
In my many moves over the past few years, I have misplaced the jar. But it sat in a place of honor in my kitchen for many years after that Christmas, and it made me smile every time I looked at it. I kept refilling it with bean soup mix over and over for I can't even tell you how many years.
The point of this story is to say that, in these trying economic times, you don't need to spend lots of money to show someone you love them. Sometimes a simple homemade gift means more than the most expensive latest and greatest.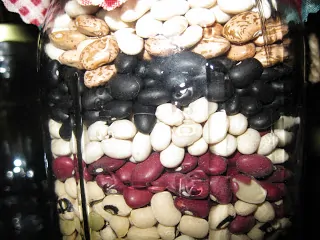 The top layers
To inspire you, and in honor of my sister and a very sweet memory, I made up this Soup In A Jar gift. This would make a nice teacher gift, or for a special neighbor, or even your own sister. If you want to make it seem like something "more", put the Jar in a crockpot or soup pot with the can of tomatoes and a box of ham seasoning, then wrap the whole thing up as a gift.
This is very simple to do, the kids will love helping with this also. You don't have to be Martha Stewart or even the least bit crafty, I promise! All you need is a clean quart jar, a scrap of pretty fabric, a little card stock to write the recipe on, and some ribbon. Just layer the ingredients neatly in the jar, put the lid on, top it with the fabric (secure with a rubber band) then tie the card to it with the ribbon.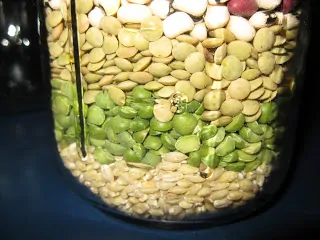 The bottom layers
I'll be sharing a few more of these with you over the next couple of weeks as Christmas draws nearer. Since Hannukah is celebrated for 8 days, this is the perfect gift for one of the 8 days of Hannukah also.
The soup is called Nine Bean Soup, here are the ingredients that you layer in the jar, along with a nice little "Fruit of the Spirit" I found that tells what "gift" each layer's ingredient symbolizes:
Split Peas = Joy
Black Beans = Peace
Red Beans = Patience
Pinto Beans = Kindness
Navy Beans = Goodness
Great Northern Beans = Faithfulness
Lentils = Gentleness
Blackeyed Peas = Self Control
Pearl Barley = Love ****Note: If this is a gift for a WLS'er, I'd omit the Barley, I left it out of the soup that's cooking now. You could always say the Blackeyed Peas were love. LOL****
Here's the recipe for the soup that you include on the gift card:
Wash beans and remove debris before using. Soak beans overnight, then drain and rinse. (If you use a Crockpot, omit the soaking step.) Put beans in a large pot or Crockpot and add water to five inches above beans. Add ham hock or other seasoning meat, you could also use ham base or beef base if you don't have ham. Add salt, pepper, garlic powder, and onion powder to taste. Add 1 (16 ounce) can crushed tomatoes and a diced onion if you like. Simmer for 4 hours on stovetop or on low for 8 hours in the Crockpot.
I have the soup simmering in the crockpot now for tonight's supper, so I'll snap a pic of it once it's done and update this post to show you the finished soup.
As promised, here's the soup once it's cooked. I made a vegetarian version with my homemade vegetable stock and 2 cans of tomatoes with the juice, instead of all water. For seasoning I added salt, garlic powder, onion powder, and 1 pack of Goya Sazon with Saffron. The boys love it, and so do I! We'll definitely have this again.