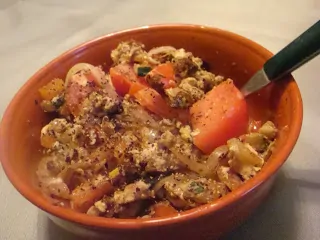 I say brunch for two because this will feed a non-op and a post-op. So if your spouse (or bf/gf/bff or whatever other relational acronym you'd like to eat with) loves veggies and you can tolerate veggies and eggs, this is a winner for a lazy Sunday morning.
You can, of course, sub in any veggies you like or find you tolerate well. Here's what's in mine!
Nik's Farmer's Market Scramble
1/2 of a large onion (of your choice) either diced or in thin slivers
1/2 a green pepper, diced
1/2 a red pepper, diced
1/4 of a small zucchini, diced small
1/4 of a small yellow squash, diced small
1 clove garlic, minced
1/4 tsp. Italian seasoning
2 large eggs + 2 large egg whites, beaten (or 1/2 c. Egg Beaters)
2 oz. your favorite cheese
1 large tomato (of your choice), cut into wedges, then halved
Salt and pepper, to taste
Directions:
Set a pan sprayed with non-stick cooking spray over medium heat. Add all veggies, Italian spice and garlic and sautee until lightly browned and soft.
Add eggs into the crevices of the veggies and then gently turn them so that the veggies get mixed in.
Once eggs are done, turn off heat and sprinkle cheese over the top, mix in if you'd like.
Add fresh tomatoes last (they taste great fresh so don't cook them!). Also if one of you likes tomatoes and one does not, this is an easy way to have them without forcing them on someone else!
Season to taste.
This was a perfect breakfast for me this morning. For your #2, you might serve some whole wheat toast or if the person has a hearty appetite, some French toast even. YUM! Easy, quick, delicious brunch for you and #2.
What's that you ask? Who is MY #2? Oh I'll never tell…