~~posted by Jen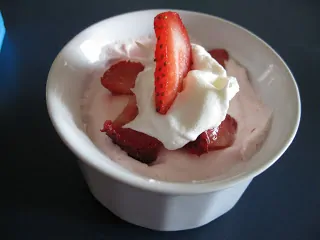 1 word: YUM!
S'anyway! A couple weeks ago, I decided to give it a try with Sugar Free gelatin and just see what happened.
At first I thought it might make the texture go all wonky because of the gelatin, but to my surprise, it works great!
I used Strawberry here, but you could use whatever flavor you like, the possibilities are endless. Peach is yummy too, I had that one the other day. I use lots of strawberry and peach because both fruits are lower on the glycemic index and don't impact your blood sugar as much as other fruits do, plus I just love their flavors!
This is a tasty meal for early-outs, and a nice protein dessert for those of us who are further out. Quick, easy and delicious, 3 of my favorite things! I called it a parfait because I like the word parfait.
If you're further out, you could always layer this with a protein bar chopped into pieces, like in my
Daybreak Parfait
, or add in some low sugar granola or Kashi Go Lean for some crunch factor to make it a true "parfait."
For early post-ops, I would have this as is, except omit the fresh berries until you're cleared for fresh fruit. This recipe makes 1 serving, multiply the ingredients by however many servings you need.
Here's how it's done:
Jen's Strawberry Protein Parfait
Ingredients:
2 oz (1/4 cup) plain Greek Yogurt
1 teaspoon strawberry Sugar Free Instant gelatin
Sugar free sweetener, to taste (I used 2 packets of
Splenda
)
3 fresh strawberries (optional, depending on your post-op stage)
2 tablespoons sugar free whipped topping
Directions:
In a bowl, combine the greek yogurt, protein powder, gelatin powder, sweetener and 1 1/2 tablespoons of the whipped topping. Whisk until thoroughly combined.
If you're using the fresh berries, slice the berries and cut them into very small bite-sized pieces, reserving 1 slice for the garnish.
Stir the berry pieces into the yogurt mixture until completely incorporated. Pour the mixture into a 4 ounce ramekin, top with the remaining 1/2 tablespoon of whipped topping and the strawberry slice. Enjoy!