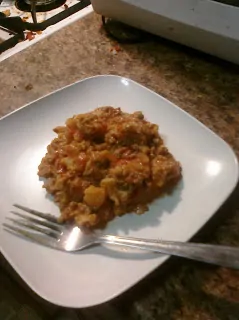 I tell you, I've been looking for ways to reinvent the cheeseburger since I had surgery. Why? Cheeseburgers shut me down QUICK. A few bites and I feel icky. I don't know what it is. And it isn't limited to burgers. Meatballs and meatloaves get the same treatment, no matter what I make them out of.
Well lately I've been missing bacon cheeseburgers in particular. Back in the day…WOO! I was a Big Bacon Classic girl. You know, the monstrocity from Wendy's. Yep. Large Fry, large chocolate Frosty baby!
But we're living life a little differently now. Sigh.
Some of you might remember the wonder that was cheeseburger soup. That's nice, but this is June in Baltimore and I don't have central AC, so soup is sorta persona non grata around my house.
So I invented this skillet meal to kill two birds with one stone. Back in the day the divas used to be big into Hamburger Helper. So I figured a skillet cheeseburger meal would satisfy us all.
Nik's Bacon Cheeseburger Skillet
Ingredients
1 small onion, diced
1 clove garlic, minced
1 lb. lean ground meat (I used turkey)
1 tbsp liquid smoke (optional but it helps)
1 can diced tomatoes (or tomatoes & chiles as I used)
1 tbsp tomato paste
4 c. cooked cauliflower florets
1 c. water
2 c. whatever shredded cheddar cheese you have on hand
½ c. milk (I used skim)
Salt, pepper, onion powder to taste
4 strips of bacon (I used the pre-cooked kind and nuked it for 30 seconds in the microwave), chopped
Directions
Spray down a pan and sautee your onion and garlic until tender over medium heat.
In a bowl, mix meat and liquid smoke thoroughly then add it to the pan with the cooked onions/garlic and brown thoroughly.
Add tomatoes and tomato paste and mix well . Add water and cauliflower florets. Bring to a boil and then reduce heat and allow mixture to simmer about 3 minutes.
Add cheese, then milk and stir. Cheese will seem stringy for a while, but will eventually melt. Keep stirring until it does.
Cut bacon into bits and add to the mixture, stirring well.
Simmer on low heat a few minutes more then turn off heat. "Sauce" will thicken upon standing.
The first portion I ate of this (for dinner), I ate straight up. The second (lunch the next day) I put a dollop of leftover "Everything Sauce" on. Either way…YUMMY!
And if you have some leftover cauliflower hanging around, here are some other cool things you can do with it: