Back when I was a lil' baby post-op, there weren't that many
options for coffee flavored protein drinks. Thankfully I was born into a few,
but nothing like the explosion we're seeing now. Today, post-ops have:
Click
Big Train's Fit Frappe
Chike Protein Iced Coffee
Nectar Cappuccino
ProJoe
And probably 17 others I haven't mentioned but that you all
swear by! At the beginning of my WLS journey the best way to get protein coffee
you liked and that mixed up well was to just make it yourself. But times, they
have a'changed!
I often get asked to compare what I call "The Big 3." That
is: Click, Fit Frappe and Chike.
And I always give what I imagine is a very frustrating
answer but it's the 100% truth. It's apples and oranges.
I'm being for real, here! The only thing these three
products have in common, in my Foodie brain, is that they attempt to deliver
you good protein with coffee flavoring. But in playing with my food (and drink)
I personally think the similarities end there. So I'm going to break each of
them down for you. Where I think they have strengths, where I think they have
weaknesses and help you decide if you want to try any or all of them!
Let's do it.
Click Espresso
Protein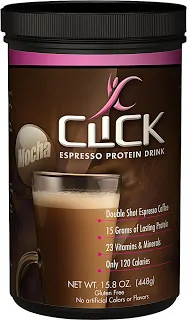 Cost: $17 – 21 per tub (14 two-scoop servings), depending on where you get it.
Stats: 120
calories, 1.5g fat, 12g carbs, >1g fiber, 6g sugars, 15g protein
Type of Protein:
Casein
(a milk-based protein)
I suggest
mixing it with: Milk (of some
sort) for cold drinks/Frapps, water if mixing it hot or in a shaker bottle.
This product
shines as: A snack protein
drink. Its calories and protein are commensurate to the perfect post-op snack!
In Frappes it blends up very smooth and creamy. In hot drinks, when you use the
proper amount of powder to water (I suggest 8 oz. water for every scoop) it is
not thin but not thick and has a very defined coffee flavor.
What you might consider "pro's":
Great taste (Its flavor is very unique. I can't describe it
other than to say it's Clicky. And good!)
Mocha comes in DECAF!
What you might consider "con's":
Out of the three, this one is highest in sugars, although
they come from fructose (fruit sugar), which does not cause the same
reaction as sucrose.
Many folks are of the school of thought that whey isolate is
the king of all proteins and Click has casein. But the reality is that casein
is a perfectly good protein that our bodies can and do use.
Fit Frappe
Cost: $44.50/tub for either 38 eight-ounce servings or 19 servings of 16 oz.
Stats: Vary
based on flavor but can be found
here
.
Type of
protein:
Casein
(a
milk-based protein)
I suggest
mixing it with: Milk (of some
sort) for a Protein Frappe!
This product
shines as: A Frappe-style drink
(hence the name) used as a meal replacement! It blends thick and creamy (not
frothy) shake and is FILLING!
What you might consider "pro's"
There are two suggested serving sizes and nutritional
information for both on the packaging! (For those of us who have not advanced
to the "mega-shake")
The sheer variety of flavors + two NON-coffee based options
for those who can't or don't do caffeine.
What you might consider "con's":
For a 16 oz. espresso-flavored shake, for instance, it has 24g of carbs, 14 of which come from
sugar alcohols. Granted the alcohol used is erythritol, which generally doesn't
have that big of an effect on the body (I'm sensitive to "SA's" and I've never
reacted negatively to Fit Frappe), but your mileage may vary.
It's one of the more pricey options on the market at about
$40/tub BUT if you drink the 8 oz. servings you get 38 servings per tub which
works out to be $1.05/serving so that might put things in perspective a bit!
Chike Protein Iced
Coffee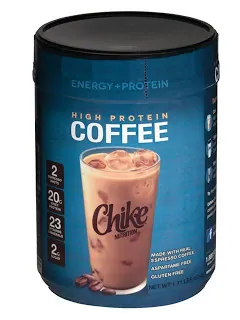 Cost: About $33.50 (not sure the # of servings per tub)
Stats: 130
calories, 2.5g fat, 9g carbs, 0g fiber, 2g sugar, 20g protein
Type of
protein: Whey protein
isolate/whey protein concentrate
I suggest
mixing it with: Water, the coffee
flavor holds up fine on its own! Note that this is JUST coffee flavored. It has
a slight vanilla twinge but not enough to be called a vanilla latte or anything
like that.
This product
shines as: A snack as well. It mixes
up fairly thin with water, no froth (yay!) and goes down easy. For more mature
pouches this may simply be a beverage with protein. For newer pouches it could
be a meal. Go with what YOU feel!
What you
might consider "pro's"
Chike is the ONLY coffee-flavored protein powder I've ever
tried that blends perfectly in a blender bottle with absolutely NO lumps!
This is the only of the three I've listed here (not of all
coffee protein!) that contains whey isolate so if that's important to you, that
could be a plus!
What you might consider "con's"
I had to dig deep to find a potential con (to be fair) but
here it is. It's sweetened with sucralose (one of the ingredients used in
Splenda) so if you are not a sucralose user (or if it bothers you) this might
be a concern.
I tried…I got nothing else!