~~posted by Jen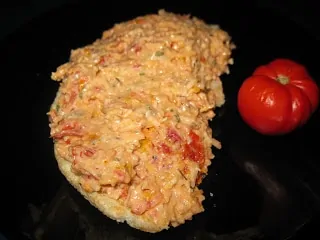 3 Cheese & Tomato Spread on half of a Pop Rice
Today was crazy busy, I went out to lunch and a double feature at the movies with some friends and got home just in time to watch a little football before "Amazing Race" came on. We needed some snacks for tv viewing of course. Well, the boys seemed to think they did.
That translates to, "Jen, will you please whip us up some snacks?" So I did! Wegman's, a northeastern grocery chain that I love and adore, makes this delicious spread at their cheese bar. They have several varieties, but one of my absolute favorites is the roasted tomato one. It's kind of pricey to buy the one they make for you, so I decided to make my own.
A little confession here–I cannot roast tomatoes if my life depended on it! I burn those suckers every.single.time. Shari (Jupiter6 on OH) and Tara (TaraK) have tried to tell me time and time again precisely how to do it, but I screw it up every blessed time! (Somewhere in Baltimore, Nik just fainted at me admitting to a shortcoming! lol)
Now y'all know how much I love to cook and how I get all Martha-esque as my BFF calls it. So you can imagine how much it pains me to admit to the free world and blogosphere that I can't roast a fricken tomato. But I digress. Thankfully, Wegman's has an awesome olive bar that happens to have quite delicious roasted tomatoes on it all ready to go! I am all about a shortcut, so that absolutely works for me.
If you too are tomato-roastingly challenged, or don't have a groovy olive bar, you could also use sundried tomatoes packed in Olive Oil. They're usually near the pasta or in the International Foods section of the supermarket. I tweaked this a bit to get some more protein into it, here's the deets:
Jen's 3 Cheese Roasted Tomato Spread


Ingredients:
3 cups shredded three cheese blend (I used the cheddar/colby/monterey jack)
3/4 cup Greek yogurt
1/4 cup light mayonnaise
1 pint roasted tomatoes, chopped fine in the mini food processor
2 tbsp Herbs de Provence
1 tbsp Garlic Powder
1 tbsp Onion Powder
salt and pepper to taste


Directions:
In a small bowl, whisk together the Greek yogurt, mayonnaise, herbs de Provence, garlic powder, and onion powder until thoroughly combined. In a larger bowl, combine the shredded cheese and finely chopped tomatoes, then fold in the yogurt mixture and blend it all together. Taste for seasoning and add salt and pepper if needed to suit your taste.


Store in a sealed container in the fridge for up to 1 week.


Early out, I heated this up in the microwave just until the cheese melted together and ate it straight up. Nowadays, I love to eat this spread on Pop Rice or a warm slice of P-28 High Protein bread fresh from the toaster.
If you use unflavored protein powder, you could certainly add some to this to make the protein count even higher. This is delicious spread on thin-sliced deli meat to make "roll-ups" for lunch, too!