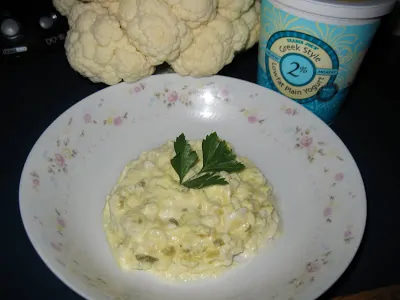 Photo Credit: Jennifer Guest Stockinger for Bariatric Foodie
When I think of barbecues (or "cookouts" as we call them in Baltimore), I think of grilled meat and great cold sides – chief among them, potato salad!
I know a lot of you don't eat white starches like potatoes. I don't for the most part. Every now and again I'll have a bite or two of something, but speaking in practical terms, things like potatoes and pasta and such make me way full, way fast and don't give me much protein to show for it!
I personally don't like getting full so fast. Eating at a cookout is a communal thing and you feel sort of weird standing there with a half-eaten plate of food while everyone else is still scarfing. So I try to make food I can eat a portion of, feel good about eating and that allows me to feel normal in an eating situation.
Fauxtato Salad is not a new concept! Cauliflower is a great carb swap. You can use it in place of rice and, in this recipe, in place of potatoes. I don't agree that they have the same texture (they don't) but this works. I've been bringing this salad to cookouts for five years and it always gets eaten (right along with the traditional stuff!)
Enjoy this recipe from former Bariatric Foodie co-writer, Jen — and happy barbecue season!
Jen's Faux-Tater Salad
Ingredients:
1 large head fresh cauliflower
4 large eggs, hard boiled & diced up (I mash mine up with a potato masher)
1 medium sweet onion, chopped fine (I prefer Vidalia since they're from Georgia, but you can use Walla Walla or sweet Spanish onion as well)
1 cup Greek Yogurt
1/2 cup Mayonnaise (you can use light but DO NOT use Fat Free)
1/4 cup Prepared Yellow Mustard
1/4 cup pickle relish (you can use dill or the no sugar added sweet relish, whichever you prefer)
1/2 bunch fresh Italian Parsley, minced
1/2 bunch fresh Dill, minced
Salt
Pepper
Garlic Powder
Paprika (optional, this is just to sprinkle over the top)
Directions:
Fill a pot 1/2 full with cold water and a pinch of salt. Remove the cauliflower florets from the stalk and put them into the pot of water. Bring it up to a rolling boil, then let it simmer for about 5 minutes or so until the cauliflower is fork tender. (If you have a rice cooker with a steamer insert, you can cook the cauliflower in the steamer. You could also put the florets in a microwave safe bowl with a little water in the bottom and cover the bowl with plastic wrap. Poke a few holes in the plastic to vent it, then microwave for 4 or 5 minutes until the cauliflower is steamed.)
OR you can buy 3 bags of that Birdseye Steam Fresh Cauliflower, nuke it, and skip all that stuff I said in the previous paragraph. Once the cauliflower is done, mash it up with a potato masher (or pulse it in the food processor) until it is the consistency of lumpy mashed potatoes.
In a separate bowl, whisk together the Greek yogurt, mayonnaise, and mustard until thoroughly combined. Add a pinch of salt, half a pinch of pepper, and a sprinkle of garlic powder. Now add the minced Parsley and Dill, pickle relish, and chopped onion, and whisk thoroughly.
Add the chopped eggs to the cauliflower, then combine the Greek yogurt mixture with the eggs and cauliflower. Fold it together with a rubber spatula until it is well mixed. NOW TASTE IT and adjust your seasonings. The mustard usually hides the "twang" of the Greek yogurt, but you may need more salt and pepper.
Now pour it into a pretty serving bowl and sprinkle a little Paprika over the top. Jen always says this is a Southern thing. I am from Maryland (which technically could be considered the south – but I don't consider it so!) and we do this too. I also slice up a few hard-boiled eggs on top.