Kinda.
Have you all become fans of Pouch Party on Facebook yet? If not, take a moment and become a fan today. We often put out questions and polls to make sure we're giving you what you want!
A week ago we asked what kinds of recipes folks would like to see on the blog. We got one answer. We're trying not to take it personally. But since that was the lone answer we felt obliged to give that one thoughful person what they asked for. Something savory.
Sorta.
Ok so here's the deal. Me and pasta? Not good friends. It's heavy and it keeps me from "the good stuff." Cuz in reality pasta doesn't really have much flavor (even when you make it flavored). It's boiled dough for goodness sakes! But still…it is a handy conduit for all sorts of meat/sauce concoctions. Which is why we love it so much.
So the other day at 3 a.m. I had a great idea (this is when great ideas usually come to me strangely enough…then and whilst I am on the elliptical machine). I make no-noodle lasagna with zucchini. Why not make pasta out of it as well!
Yes, half of you are thinking "I already knew this" but please…for my sake…act excited.
It was really easy. In the time it took for a small pot of water to boil I sliced up a small zucchini into pasta-like strips. Boiled them about 3-4 minutes and extracted them for wonderful al dente pasta. Here's what it looks like: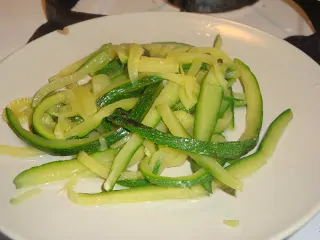 Notice I made them with skin on. More fiber that way! If you want something that looks a little more pasta-like (albeit green) you are certainly welcome to remove the skin. The first time I made it I just had it with a few sprays of butter spray and some salt for butter noodles. But yesterday I made it with a scoop of my chicken and veggie alfredo casserole and THAT was good! Check it out: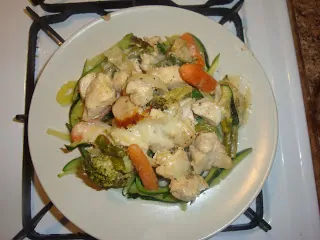 Veggie on veggie action! That's what I'm talking about baby! Now me and brocolli don't get along. This very concoction had me heaving brocolli the day before but I guess it was softer this time? I dunno. But giving up brocolli is not something I am willing to do so I try, try again.
Anyway, this pasta did not make my pouch feel like lead and allowed me to eat what looked like a normal (for me) sized plate of pasta and sauce. Sometimes not feeling like a space alien is worth the effort of turning veggies into pasta, you know what I mean?