I do too! So I tinkered around in the kitchen and came up with these babies.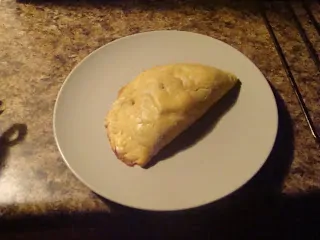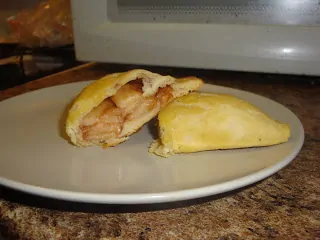 Mind you they are still on the moderation list. They are not protein forward. They are not even particularly low calorie (although if you look below at the comps to McD's it is a significant reduction in calories). My suggestion? Make them. Freeze them. Pop them out when everyone else is having a nomilicious dessert that you cannot or should not have and be happy!
I made four and they were way huge. When rolling them out I noted that it could easily make six so that is what I'm using for my per pie stats. I am going to test and see if you can get 8 out of them. CQ dough is problematic. It has to stay very, very cold to be pliable.
Stats:
Whole recipe:
685 cals
38g fat
115g carbs
69g fiber
34g protein
Per pie (for 6):
114 cals
6g fat
19g carbs
11.5g fiber (so 7.5 net carbs)
5.6g protein
McD's hot apple pie:
250 calories
13g fat
32g carbs
4g fiber (28 net carbs)
2g protein
McNik's Hot Apple Pie


Dough:
1.5 c Carbquik (Atkins Baking Mix works too and has way more protein!)
About 5 tbsp water
1 egg, beaten
Filling:
2 apples (granny smith or golden delicious work well), sliced very thin1 tsp cinnamon
1 tbsp Splenda
1 tbsp SF caramel syrup (Davinci/Torani)
Directions:
1. Mix CQ and water a tablespoon at a time until a dough forms. Test it by pinching it. If it holds together it is good to go. If it cracks, you need more water. Refrigerate dough for about an hour or two.
2. Spray a skillet with nonstick cooking spray. Add apples, cinnamon, splenda and syrup and cook apples until soft and splenda/syrup mixture is caramelized.
3. Flour your countertop (I used soy flour…just another way to be protein forward). Cut dough into desired amount of equal sized pieces. Refrigerate half the dough while you are working with half the dough.
4. Roll each piece of dough out with a rolling pin. Lay on a sprayed cookie sheet and fill half with apple mixture. Fold over into a pocket, pressing down around the edges. If you want, you can mark the edges with a fork for visual appeal.
5. Once all are done, brush the top of each with the beaten egg and cut a slit in the top to allow steam to escape.
6. Bake in a preheated 350 oven for 10 minutes.
VERDICT: very yummy. If you want to go that extra mile of making them taste EXACTLY like a McDs pie, I'd add some caramel syrup to the egg wash to make the outside sweeter. As it stood, I used a basic pie crust recipe which called for salt and my pie was kinda salty. But the sweetness of the apples counteracted it well enough.