~~posted by Jen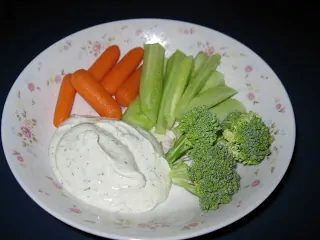 So usually I eat a salad with some protein on top for lunch or dinner, but one of my favorite "go to" snacks is veggie sticks with Greek Yogurt Ranch dip. Let's face it, you can only eat so much meat and cheese before you start craving "vegabulls". Yesterday afternoon I made myself the little crudite snack pictured above, and it got me thinking back to my early post-op days when I would have sold my soul for a salad. Then, the inevitable light bulb went off in my head. What if we could make a salad into a protein shake???
I know, I know, it sounds crazy. But one of my fellow pouchers and Facebook friends, Ruby Sue, was doing just shakes for a few days to detox from carbs (she's a couple years out) and one day she did a protein shake with veggies. I know our good friend Tara, aka Miz Crunchy Granola, frequently makes her kefir smoothies with veggies too. Of course I had to try it. Y'all know me, when I get an idea in my head I can't rest until I try it!
So, I did. First I used my vanilla soy protein powder, as Ruby had used vanilla in her version. Let me just say this. All the ranch dip mix and garlic powder in the WORLD would not mask that dang vanilla flavor. Believe me when I tell you!! I even had my non-op guinea pig tasters try it, and they agreed. Salad + dessert taste, not a good combo. In the interest of science, I schlepped to Whole Foods in Princeton and got some unflavored soy protein powder. (See the lengths I am willing to go to, ALL for y'all??!!)
Annnnnd, what do you know? With the unflavored protein powder, it tasted….wait for it…..JUST LIKE A SALAD!!!! This is a recipe two-fer, for those who didn't already know the trick with ranch powder and greek yogurt to make your own dip or ranch dressing, and the shake recipe. Without further ado…
Ranchy Greek Yogurt Dip:
Ingredients:
1 cup Greek Yogurt
1/2 pack Ranch Dip Mix
(I use Hidden Valley Ranch brand, but whatever kind you like)
Directions:
Combine with a whisk until well blended. Perfect dip for veggies, or I even dip deli meat & cheese rollups in it sometimes. To make it into ranch dressing, add milk or buttermilk until it thins out to the consistency you like for salad dressing. Store in a covered container in the refrigerator. It may separate after a couple days, so just whisk it again before using.
Now for early outs who aren't cleared for veggies, or for those who are sick of sweet protein shakes…
Jen's Salad Shake:


Ingredients:
1/2 cup Greek Yogurt
4 oz milk or soy milk
1/4 packet Ranch Dip Mix (start with 1/4 pack and adjust to your taste, it is kind of salty)
1 scoop unflavored protein powder
1 small tomato, peeled and cored
1 small cucumber, peeled
Handful of fresh spinach leaves (optional)
sprinkle of garlic powder (optional)
black pepper to taste (optional)
Directions:
Combine first four ingredients in your Magic Bullet
or Blender
and pulse until protein powder and dip mix are thoroughly incorporated into the yogurt and milk. Add your veggies and blend for about a minute or so until they are completely pulverized into the shake.
*Note: I used tomatoes and cucumbers twice, added spinach on the 3rd try for extra vitamins. Use whatever veggies you have & like, blending time will vary. Broccoli and carrots would be good too, I think celery would be the wrong consistency since it's so stringy it won't blend all the way down. Spinach WILL change the color, do not freak out because it's greener.*
Taste it before you pour the whole thing in your glass, and adjust the seasoning to your taste. Enjoy!!