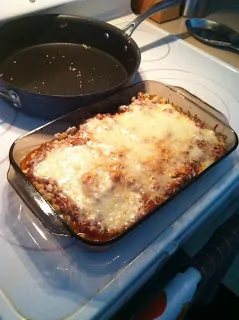 PWYF. Play with your food. It's our philosophy. And many of
you have whole-heartedly embraced the challenge of looking at a recipe, then
figuring out how to change it so that it works for YOUR weight-loss surgery
lifestyle, preferences and tastes.
I love it. And I especially love it when you share the
results with me.
Today we celebrate Angela's PWYF moment.
Angela saw my
taco casserole recipe
and thought to herself
(this is complete fabrication of what I THINK she thought to herself): "Self? I'd
love to have an Italian version of this casserole. In fact, I
will
have an Italian version of this
casserole. I WILL PLAY WITH MY FOOD!!!!"
(Then trumpets sounded, fireworks went off, there was "hair
wind"…it was quite the spectacle…you should have seen it!)
S'anyway. I "helped" with this recipe as Angela put a little of this, a little of that in her recipe. From what she relayed to me, here's what I've got for you! (Angela, chime in if I got any of this wrong! I also took a little bit of creative license…)
Angela's Italian
Melt Casserole
Ingredients:
(Ingredients Nik added have an *)
1 Vidalia onion, chopped
1 bag baby spinach
1 clove garlic, minced*
Optional: sliced mushrooms
1 lb. ground turkey (Angela's recipe called for 1.5 lbs. ground turkey but I like the ground turkey/Italian sausage combo. Go with what YOU feel!)
1/2 lb. turkey or regular Italian sausage* (I put Italian sausage in everything!)
1 (10 oz.) can of Italian-style diced tomatoes
1 (12 oz.) can of cannelini beans, drained and rinsed of canning liquids
2 c. Italian-blend shredded cheese
Directions:
Preheat your oven to 350 degrees then spray a skillet with nonstick cooking spray and set it over medium heat on your stove and allow it to get hot.
Add onion and sautee until slightly soft. Add spinach and sautee until wilted. If you choose to add mushrooms, do so now and cook until soft. Finally, add garlic.
Add meat to pan and brown, mixing vegetables into the meat mixture. When the meat is completely browned, add in your tomatoes and beans and stir through.
Transfer to a 13×9 casserole dish, cover with cheese and bake, uncovered, for 30 minutes or until cheese is bubbly. I personally would let it go another 5-7 minutes until the cheese is browned!
Thank you, Angela, for sharing this recipe! I actually think I'm gonna make it later on this week. I'll report back on my results.
Until then, keep playing with your food!
Oh..and look for yet another PWYF post tomorrow. It's fun with cauliflower!