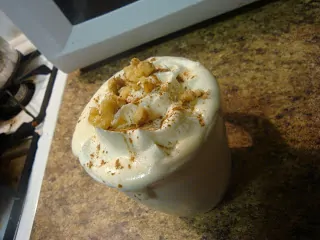 Before I start to tell you about the wonderful lusciousness you see above, I have two questions:
Have you read our latest big announcement? If not, go read it…I'll wait.
Did you cook along with soup week? If you did, or are planning to, you have until Nov. 7 to e-mail your soup pics to be entered in the prize drawing. Looking for the recipes. You can find them here!
Ok, on to the business of the day. So usually I am a chocolate girl. But every once in a while I get "all chocolated out." Yes, yes, it's an affliction that affects 1 in 7 chocoholics in their career and it certain does affect me.
In this season of colder temperatures, most often I reach for something like my salted caramel protein cocoa to satisfy both my sweet tooth and my need for protein, but this morning I got a craving for some vanilla. Rich, smooth, velvety vanilla.
This drink is what I call "the vanilla lover's answer to hot cocoa." It's got all the essential elements. Hot? Check. Creamy? Double check. Slather of (fat free) whippage on top and a completely unnecessary but totally yummy addition? Check and check. (By the way, the cocoa equivalent of that addition would be marshmallows in case you are wondering).
Nik's Hot Cinnabon Protein Drink
Ingredients
4 oz. skim milk (I use Hood Calorie Countdown)
8 oz. boiling water
1 scoop vanilla protein powder (I use this)
3 pumps each (or 1 tbsp each to start if you don't have a pump) of:
Davinci sugar-free caramel syrup
and
Davinci sugar-free cinnamon syrup
2-3 packets no-calorie sweetener
A big "glob" of fat free whipped cream
A dash of cinnamon
Optional: walnut pieces
Directions:
In a 12 oz. mug, mix protein powder and cold milk until a smooth paste forms. We get questions about mixing hot protein drinks all the time. If you are careful to make a smoothe paste with the protein powder and the milk you should be fine when you…
Add your boiling water SLOWLY and stir, stir, stir…if you are successful you should get a frothy, but lump free, concoction that looks something like this: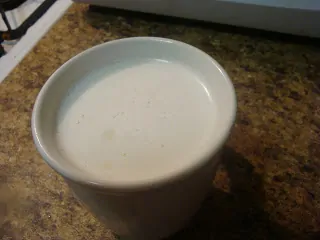 To this mixture, add your syrups and sweetener and give it a taste. Sometimes the cold milk brings down the temperature of the drink so I nuke it for 30 seconds to get it "back there." Once you've got the taste the way you like it, add your whippage and top with a light dusting of cinnamon and the walnuts, if you'd like.
The walnuts, while completely optional, bring the Cinnabon feel full circle. Plus they are these little crunchy nuggets of goodness mixed with the sweetness of the drink.
I call it a Hot Cinnabon because that's what it tastes like to me. I loved Cinnabon back in the day. They were everything a good, sinful treat should be: gooey, sweet, sticky and yummy! But this recipe, like all our recipes, can be tweaked to your liking. If you come up with a way you like better,
let us know about it
!