Ooh Snap!
No…like, literally. That's the name of this product.
Did it make you smile? It made me smile when I first saw it!
Before we jump into this review, go get a cup of tea and settle in with your favorite throw blanket. This is a totally new company and so we have a lot to talk about!
Ooh Snap Nutrition: Who the hell are they?
Let's start there. Because I had honestly never heard of them before they contacted me. Now I have a process when a new company contacts me. Usually I check them out online. I visit their website, their social media pages, check out what their product is and what folks have to say about it.
One thing became very apparent when I started researching Ooh Snap Nutrition. They seem to have something of a cult following. But let me backup a moment.
Ooh Snap Nutrition is the maker of Ooh Snap! Crispy Protein Bars. There are three bar flavors (we'll talk about that in a minute) and the bars are their sole product line.
Which, honestly, I can respect. I'd rather a company focus on making one product well as opposed to making a bunch of products mediocre. Whether they achieved that or not remains to be seen (keep reading) but I can respect that product strategy!
Let's talk about the bars next.
Ooh Snap Crispy Protein Bars: What the hell are they?
Let's let Snap Nutrition tell us a bit about this line of bars. Via their website:
With a vision to make a fun and new tasty protein bar, Snap Nutrition™ created the OOH SNAP! Crispy Protein Bars. Tired of the same old chewy protein bar? OOH SNAP! Crispy Protein Bars delivers a delicious coating with a tasty crispy center. Whatever your fitness goals are, Ooh Snap! Crispy Protein bars fits right in.
Get yourself through the day by cutting out hunger with a healthy and tasty treat without having to feel guilty. Protein bars were meant to look and taste great! We like to think of our bars as not an alternative snack to healthy eating, but a necessity!
The bars come in three flavors:
Chocolate Peanut Butter
Caramel Pretzel
Vanilla Marshmallow
When I finally spoke to a rep from their company (a very friendly guy by the name of Mark!) he explained that many people liken their bars to Rice Krispies treats. (We'll see about that…)
The Aesthetics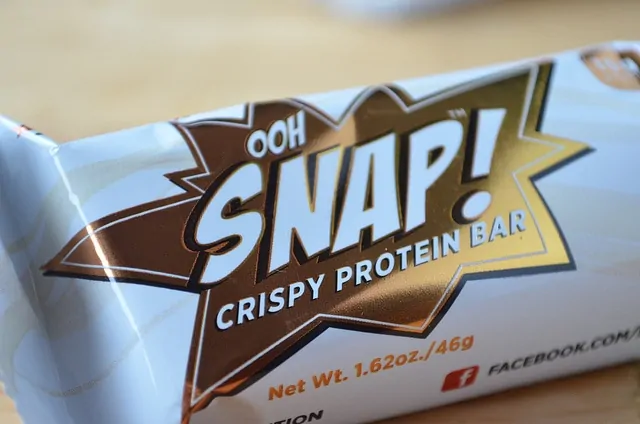 I really like the packaging of these bars. It's sort of reminiscent of old Batman comics where they'd have those jagged dialogue boxes that said things like "Boom!" "Wham!" and "POW!"
The bars are a manageable size and they do resemble a Rice Krispie treat (or a cereal bar) cut into a rectangular shape. The bars are coated all around: the chocolate peanut butter has a chocolate coating (of course) and the other two have a white coating.
They all also had a really nice aroma that matched up with the flavors. So at this point I was pretty hopeful. But we still have to talk about nutrition. Stay with me!
The Nutrition
Each bar is 46g, which makes up one serving. Here is the nutrition information from their website:
Chocolate Peanut Butter: 180 calories, 9g fat, 17g carbohydrates, 6g fiber, 4g sugar, 2g sugar alcohols, 15g protein.
Caramel Pretzel: 160 calories, 6g fat, 18g carbohydrates, 8g fiber, 4g sugar, 3g sugar alcohols, 15g protein.
Vanilla Marshmallow: 160 calories, 7g fat, 17g carbohydrates, 4g fiber, 3g sugars, 3g sugar alcohols, 15g protein.
So let's put that in perspective a little bit. First, we need to adjust for the net carb counts. Because neither dietary fiber nor sugar alcohols can be absorbed by the human body, those come out of the total carb count, bringing the carb count for the Chocolate Peanut Butter to 9 net grams of carbs, the Caramel Pretzel is 7 net grams of carbs, and Vanilla Marshmallow is 10 net grams. That means with all three bars, the net carbohydrates are less than the protein count. That's good.
We also have to discuss the type of protein. These bars use a blend that is comprised of soy, whey, egg white and milk proteins (in both concentrate and isolate forms). This isn't unusual. Most bars use a blend (mostly for the purposes of achieving a palatable texture).
Lastly let's talk about the calorie:protein ratio. If you've followed me a while, you know I subscribe to the 10:1 ratio. For a product to be considered an excellent protein source, for every 10 calories it needs to have a gram of protein. These bars almost make it. But it's noteworthy that not many protein bars do!
So all in all, I'm still open-minded at this point. Let's talk about flavor!
The Flavor
Snap Nutrition was nice enough to send both me and Shannon bars. We shared what we thought about those bars on a recent episode of Bariatric Foodie Live. For the purposes of this review, I used my youngest daughter (La Petite Diva, or LPD for short) as a back-up opinion. She's 17 and definitely knows what she likes and does not like.
Here are our impressions of the flavors:
Chocolate Peanut Butter:
Me: Meh. I mean it's not bad but it actually tastes like chocolate peanut to me as opposed to peanut butter. There's a difference. Respect peanut butter!
LPD: Mom, I think you're doing too much. It tastes like Chocolate Peanut Butter. I like it.
Caramel Pretzel:
Me: Dear Lord, where has this thing been all my life! It's got a light caramel flavor, a slight saltiness, it's crunchy. This is hitting all the right spots!
LPD: I agree, this one is good. (In 17 year-old this is a compliment of the highest order.)
Vanilla Marshmallow:
Me: Eh. Vanilla isn't my favorite but it does taste like Vanilla and it does taste like Marshmallow. I could see this being good in yogurt and stuff.
LPD: This one is the most Rice Krispy treat-like one to me. I like it. Can I have another one?
So there you have it. By far, the Caramel Pretzel was my favorite, which is surprising because a) I am not the biggest caramel fan and b) because it won out over something with peanut butter which is very much a favorite of mine!
Strange. But stranger things have happened, Foodies.
The only thing I want to add is that I really dug the texture of these bars. I wasn't a big Rice Krispy treat fan when I was a kid (something about marshmallow just isn't all that appealing to me) so I don't have a super strong frame of reference, but I will say they are crispy and light and just sweet enough. I love that the Caramel Pretzel came through with both the texture and the little kick of salt. I love, love, love salty-sweet!
The Cost
Ooh Snap bars are sold both on Amazon and on the Snap Nutrition website. The price of all three flavors is the same on their website, $16.99 for a 7-count box, which comes out to $2.42/bar. On Amazon, the prices are as follows (sold by Snap Nutrition): Vanilla-Marshmallow ($12.57 for a 7-ct box, which is $1.80/bar), Caramel Pretzel ($13.10 or $1.87/bar) and Chocolate Peanut Butter ($13.93 or $1.99/bar).
As far as protein supplements go, it's not the most protein heavy bar in the world but it's also not nasty! (Which, sorry, 99% of the super-high protein bars are.) This definitely contributes to my protein count for the day, but that's not the main appeal of this product to me. I love products that satisfy my occasional sweet tooth while giving me protein and not a lot of sugar. That's more how I'm looking at this product.
For new post-ops, your focus rightfully should be on getting as much protein in a product as you can get your grubby little hands on! And in that case, this bar may be a "later down the line" choice. For those of us who are a few years out, and can definitely fall prey to actual sugar, this is a great alternative to have a sweet treat with protein and better nutrition.
Be sure to check out Ooh Snap bars for yourself by visiting the Snap Nutrition website!