It's not food!!!
Sorry…I get a little giddy about non-food, non-drink, non-ingest something type reviews. Plus…I love getting my move on!
But.
In the interest of full disclosure, I did have to enlist help to do this review. About the time I was to review this fitness program, I had surgery and it took a bit more out of me than I anticipated. But thankfully my beautiful, energetic, vivacious, beautiful, intelligent, kind, beautiful (and did I mention she's beautiful?) friend Kesha (who goes by Waning Woman on Instagram) came to the rescue! She participated in the program and shares her experience below.
If you haven't before, meet Kesha: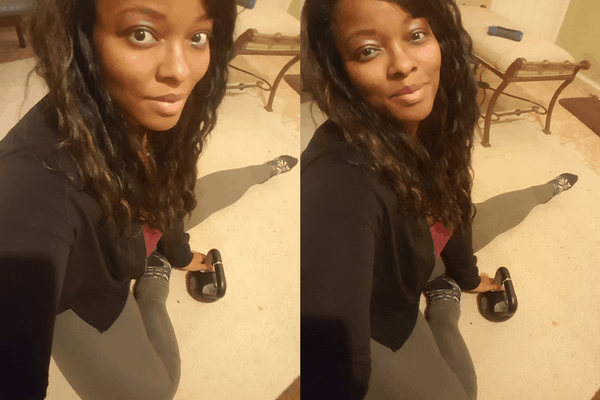 (See? I told you she's gorgeous!!!)
Before we get to what Kesha has to say, let me first give you the deets about what GoGirl Fitness and the GoGirl Resolve program are.
About GoGirl Fitness & GoGirl Resolve
GoGirl Fitness Studio is physically based in Wilmington, NC and is managed by my good friend, personal trainer, weight loss coach, weight loss surgery patient, runner-girl, obesity rebel and all-around badass Pandora Williams, who you might know as the author behind Desperately Seeking Slender.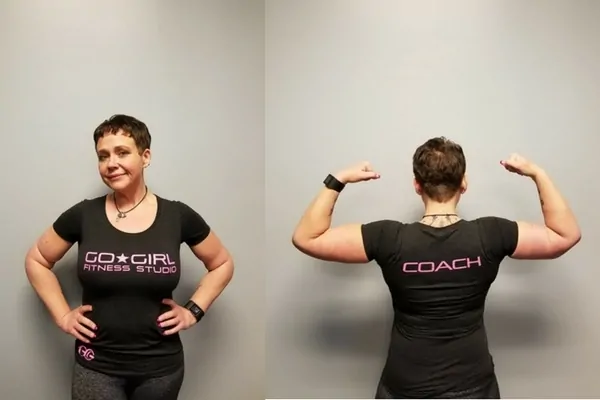 Pandora brings to GoGirl her personal philosophy that "fitness fits everyone." What that means is that we should recognize that we don't all approach fitness the same, but if we keep an open mind and determination, we can all find a fitness routine that is both possible and sustainable.
About GoGirl Resolve
In addition to being a physical fitness studio studio, GoGirl is launching an online group fitness program called GoGirl Resolve where,  from the comfort of your living room (or hotel room, or office…or wherever you want), a GoGirl trainer will lead you, and several others, through a series of strength and cardio moves designed to give you a challenging workout.
In keeping with the "fitness fits everyone" philosophy, GoGirl Resolve is lead by Pandora through a program called Zoom, which connects her at the GoGirl Fitness Studio to you, wherever you should happen to be! Through the use of cameras and screens, Pandora can demonstrate moves and observe clients form, posture and assess their level of exertion.
So…what's it like to go through a GoGirl Resolve workout? For that…we turn to my ("yes, we know, Nikki, she's beautiful!") friend Kesha. The rest of this review will be interview style with my questions in bold italics, followed by Kesha's answers.
So what made you decide to try GoGirl Resolve?
GoGirl Fitness came a'knockin' and asked yours truly to participate in an invitation only, pre-launch focus group. I replied,  "I'm in like natural Black hair,  gut health,  and JoJo Siwa bows." In other words, yes!
Tell us about the set-up? Do you need equipment? And how do you even access the classes?
I checked my email before the initial training session and found that Pandora recommends dumbbells and a stability ball. I have only kettlebells and my fabulous self.  Oh well. #KanyeShrug. I just used my kettlebells while others used their dumbbells. Or in the case of one participant,  cans of corn. Yes, Pandora told her to go to the pantry and hustle up some weights. It's easily and immediately adaptable for equipment, mobility, and experience.
To access the class, I just launched the easy to install, easy to navigate app Zoom on my phone and was on my way. Although there were several participants, I could double tap Pandora's window to pin her to the screen. I didn't have a great place to sit my phone without out it sliding and moving, so I felt a little weird about the participants seeing me at unflattering angles. I quickly snapped out of it when i realized that they would see these exact same unflattering angles in a live class setting.
What are the workouts like? Are they super hard?
The training sessions were strength and stability based. Pandora is good at adapting the routine to our abilities. Here, let me give you my best online Pandora impression.
"Limited range of motion? Take it as high as you can. Your back hurts? Get off of the floor and take it to the wall. Oh you wanna twerk, Kesha? See if you can keep that up for 60 seconds while we march in place."
See? Totally adaptable!
Seriously though, after approximately an hour of various dips, squats, curls,  planks,  bridges, lunges, and occasional twerks courtesy of moi, i was definitely ready to finish up my session, but I didn't feel like Wal-Mart the day after Christmas: bombed out, depleted, and in desperate need of salvation. I actually felt good and ready to do it again!
What's Pandora like as a trainer? What can folks expect when they work with her?
Well, I can't speak for everyone but Pandora's training style meshes really well with my personality. I am not about that in-your-face life.  She pushes me,  but also respects the fact that I know what my limits are, and she pushes me toward that, not beyond that.  I've had workout/ training sessions that are just TOO hard and I've quit on the spot.  This isn't one of those. She's a motivator,  not a drill sergeant.
What did you think about online training? Did you like it?
Virtual training incorporates the ease of working out at home with the accountability factor of a trainer. Theoretically,  I could work out for free on YouTube, but Billy Blanks ain't staring at me from the other side of the camera saying,  "Nope! Get those arms up and lift your rump. "
I'm a very last minute person, so scrambling to throw on my workout clothes at 6:57 (after making a totally Instagram worthy food shot) worked out perfectly for ME.
I have a couple of caveats though. If you  are an advanced fitness enthusiast and strength train on a level that requires using multiple machines, multiple weights, or do split training, the virtual group training model might not be the best fit for you.
I like to give my readers a sense of the value of the things I review. Tell us: do you think the GoGirl Resolve program is a good value?
(Nik note: The GoGirl Resolve program has two different options. You can do three times a week for $240/month or an unlimited sessions plan for $360/month. BUT they are offering a great price for the 3x's weekly package in honor of the Bariatric Foodie Pledge – just $119, with no enrollment fee!
Figured it'd be good to, y'know, know the price as Kesha is talking about value. We now return you to her regularly scheduled fabulousness…)
I personally like to train with my partner.  Even though men technically can take part in GoGirl Resolve, it's primarily a safe training space for women, which is so necessary. But that means the Mr. isn't participating with me.
Again, I completely understand the value and necessity of women only space,  and in fact, I think that is a huge selling point,  but I do feel that it's worth pointing out.
All-in-all, though, I would say the GoGirl Resolve program is a great value, especially for:
those with beginner to intermediate proficiency
those who need modifications,
those who work,
those who have families,
those who want a safe space
those who breathe,  aaaaaaand…
Those who have finally realized that their time is even more valuable than money.
To learn more about GoGirl Fitness Studio – and the GoGirl Resolve program, visit their website. And tell them Nik sent ya!