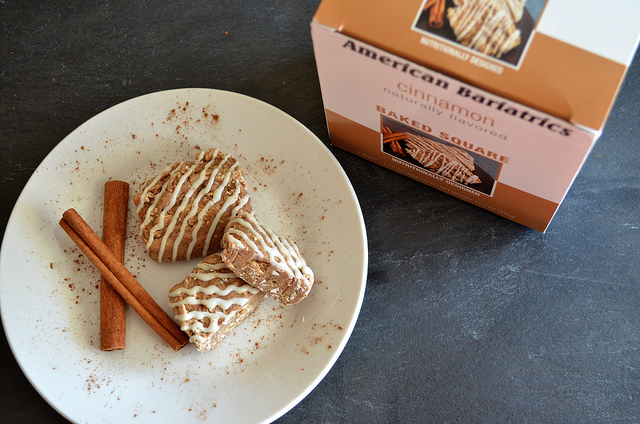 For those of you who have ever looked at my protein baked oatmeal recipes and said, "That sounds yummy but that's a bit more than I wanna do…" REJOICE!
I may have a solution for you.
Let's get into these protein Cinnamon Squares from Bariatric Food Source.
About Bariatric Food Source
Bariatric Food Source is an online store that carries a plethora of protein products (see what I did there?) to meet the needs of weight loss surgery patients. It's actually owned by the same folks who own AmBari Nutrition (makers of the Jumpstart Energy Drink Mix) and they've been faithful supporters of the Bariatric Foodie Pledge for a few years now.
Baked Cinnamon Squares: Stats & All That
These Baked Cinnamon Squares come in a box of 7 and each is individually wrapped. Let's take a look at the stats, shall we?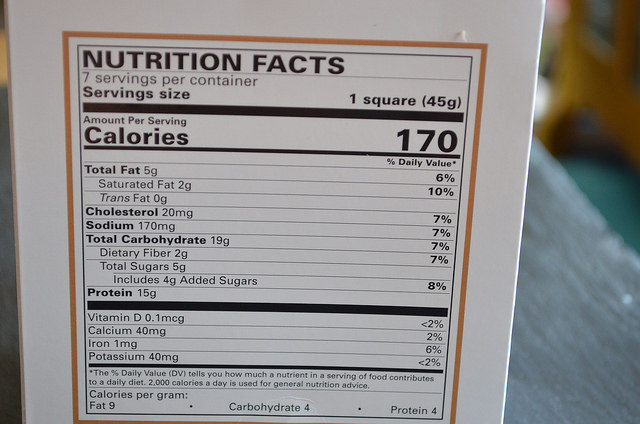 So let's unpack this a little. You guys know my standard for if something is an excellent source of protein: it has to have one gram of protein for every 10 calories. This falls a little short of that (by 2g), but considering it's an oatmeal square, that's actually not bad. The total net carbs are higher than the protein count, but that's to be expected because, again, this is essentially an oatmeal square! I was particularly interested in the breakdown of the sugars. Of the 5g per square, only 4g were added sugars. So what where was the other gram coming from? Being the food detective that I am, of course I had to swing that box around and look at the ingredients.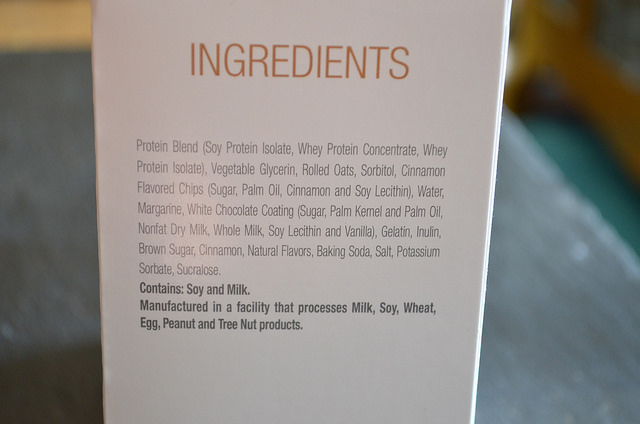 Aha! Milk. The other gram comes from milk, which isn't an added sugar, but a natural sugar. Whew! Mystery solved. But there are a few other things to talk about in this ingredients list. This product contains sorbitol, which is a sugar alcohol. If you aren't familiar with those, long story short, sugar alcohols give products a sweet taste but since they can't be absorbed by the human body, they don't have caloric content. Sorbitol is one of the kinds that, in high enough levels, can bug your system. I can't tell from the nutrition label how many grams of sugar alcohols are in this square, but I can say that I personally didn't feel any of the tell-tale effects, and I usually do if there's enough in there. The main effects are gas (sometimes painful) and what I call "bubble gut." Neither of those things happened and I've tried several of the squares.
Taste & Texture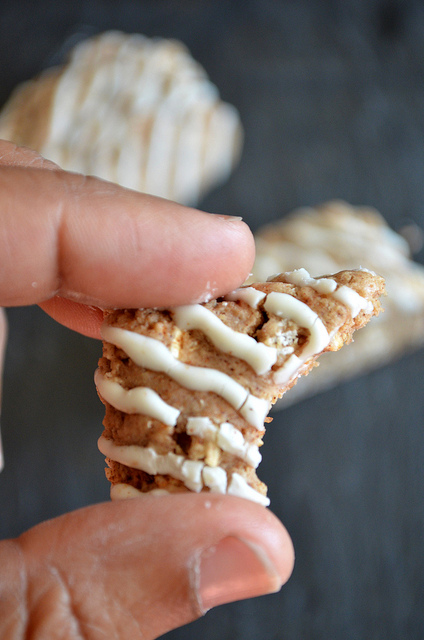 So you might have been able to tell from the very first picture of the squares that they are pretty solid. I'd liken them to a Quest Bar. In fact, that's how I decided to treat these. Which means I nuked it for about 12 seconds to soften it up. Check out the difference between a nuked and an non-nuked square.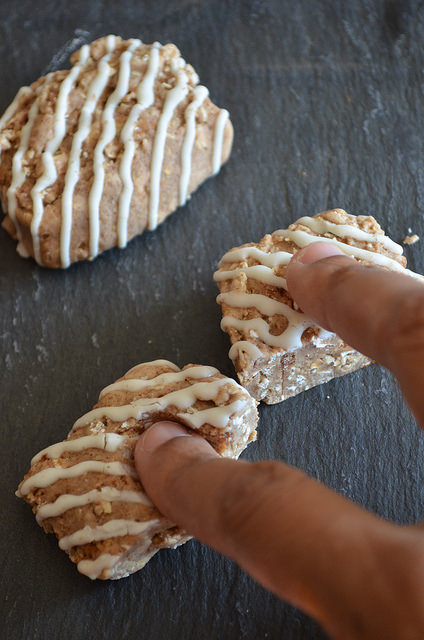 Yeah. My advice? Nuke it. 12 seconds. And all is well.
As for the flavor, it actually tastes pretty true to form after it's warmed a little. Before, it sorta tastes cinnamon-y, but it's sort of faint. The glaze on top really comes through after you nuke it, too. It's sweet but not sickeningly sweet (I don't like stuff that's too, too sweet!), which is a plus. And it's soft and chewy, again, after you've put it in the microwave for a few seconds.
The size is also pretty manageable. It's about the size of two dominoes, which to me is a the perfect size. Just enough that when I'm done eating it, I'm DONE!
My only caveat is that it has a little bit of protein after taste going on there. Just a little. It wasn't obnoxious, but it was definitely there. Some folks I know never notice the taste but I do. But it wasn't strong enough to deter me. All in all, I enjoyed eating these squares!
Cost & Value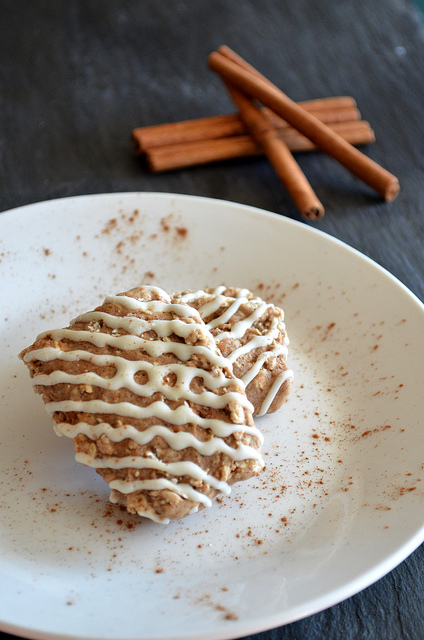 On the Bariatric Food Source website, the 7-count box will set you back $13.49. That comes out to $1.92/square, which is about $0.12 per protein gram. (For those of you who are new to my reviews, the "cost per protein gram" is a sort of unit price I use to compare various protein products against one another in price.)
My reaction. Eh. I'm neither offended nor excited by the price.
Would I buy it?
See now that's a trick question! Because you guys know I make my own cinnamon oatmeal squares and they are DEELISHISSSSS!
While I'm not giving up my beloved homemade squares anytime soon, I will say this. I noticed when I was looking at their website that this same product comes in a brownie square (same count, same price). That? I'd be all over! Because brownies are something I don't tend to make very often and (God forgive me) I don't like to make healthified brownies. I'll eat healthified brownies, don't get me wrong. I just don't wanna bake them for whatever reason.
But like I said earlier, if you look at my baked oatmeal recipes and just don't want to go through those motions, this is a legit stand-in! When warmed, it captures all the wonderful flavors of oats and cinnamon with a nice glazed topping that is pre-portioned and easy to take with you on the go. It also gives a great protein count for an oat square!
So that's my two cents. What say you? If you want to check out Bariatric Food Source, visit their website. And tell then Nik sent ya!