~~posted by Jen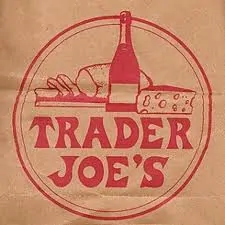 One of my absolute favorite stores is Trader Joe's (aka TJ's). It's a smaller market specializing in organic and natural foods at reasonable prices. While I really like Whole Foods, they don't call it "whole paycheck" for nothing, but leave it to Nik to come up with a budget-friendly Whole Foods shopping trip!
I love TJ's produce department, they have fresh, local, seasonal produce that doesn't cost a fortune. Even their prepared produce is reasonably priced. They have mirapoix (carrots, celery, and onions) all chopped up for a great soup starter, plus fantastic bagged salads and a wide variety of other pre-prepped veggies for stir fry, etc.
In the back corner of the store they have a sample corner and an area where you can get a sample size cup of coffee. I usually start off there to see what they're sampling. I have to admit one of my favorite holiday appetizer ideas came from the sample booth at TJ's, you'll see this one at our upcoming Holiday Preview Pouch Party on November 13th.
Their coffees that I've tried are all excellent, they sell several flavors of fair trade coffee in both whole bean and already ground varieties. They also have quite a selection of teas if you're a tea drinker. Their frozen section is incredible, lots of choices that are delicious AND reasonably priced. Even quick, healthy meal choices you can just heat and eat for busy days.
Good news for our gluten-free readers, they have a fantastic variety of gluten-free products much more reasonably priced than I've seen at big chain supermarkets. They also have a good selection of healthy snack choices like Wasabi peas and roasted edamame, to name just two.
The cheese department, forget about it! An excellent selection and priced cheaper than the cheese counter at any of the larger chain supermarkets in my area. Here are my most commonly purchased items from Trader Joe's:
Frozen foods:
Buffalo Burgers
Mahi Mahi Burgers (here's my review of these)
Mini Quiche (these are a PERFECT WLS meal size and come in several flavors)
Quinoa and roasted vegetables
Pizza
Any of their seafood
Sweet potato fries-delicious baked in the oven
Soycotash veggie blend–Succotash made with edamame instead of peas
Shelled edamame
The non-ops in my house love: TJ's Mushroom Risotto, TJ's Asparagus Risotto, TJ's macaroni and cheese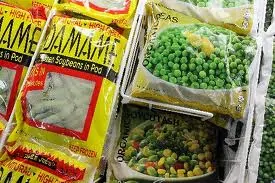 Frozen Edamame on the Left and at the bottom is the Soycotash
Staple/canned/dry goods:
Any of their pasta sauces
Olive Oil
Spices
Tuna
They also have microwave-ready meals on the dry goods aisle that are ready in 90 seconds. The quinoa one is tasty.
Soups–both in cans and in microwaveable pouches. I have yet to taste one that was not delicious, and these are perfect for your desk drawer at work.
Soy Protein and Flax Tortilla chips for Nachos
Dairy/Produce:
TJ's Greek Yogurt
Lots of artisanal cheeses, some of my favorites are: Port du Salut, Champignon, Blue Brie
Shredded cheeses
Bagged Salad–great variety and stays fresh longer than big name brands
Fresh Salsa
Whatever seasonal produce catches my eye
There you have it, what I buy on my bi-weekly adventure to Trader Joe's. I highly recommend you go there, look around, and see what sorts of awesome finds you score! Not every TJ's carries the exact same items, so your store's inventory may vary from mine.