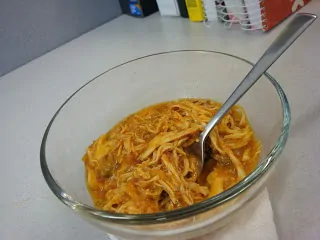 Ok, so I realize since I've been stepping my photography game up lately that this picture COULD have been better. But it was taken at work. Cut me some slack!!!

You ever go to make something you REALLY want, reasonably sure you have all the ingredients, then you go to finish it and you find that you really don't?
Nah…that doesn't happen to you guys. Because, unlike me, you have the good sense to check first!!!
I decided to make some Southwest Chicken for my lunches this week. I was soooo excited. I love that stuff! It's the simplest thing in the world to make (click the link for the original recipe). But when it came down to it, I was missing the one, pivotal ingredient…cream cheese! That's highly unusual by the way. I am NEVER out of cream cheese.
So anyway…I had to edit my plan. Here's what I came up with.
Nik's Queso Chicken
Ingredients
1 lb. boneless, skinless chicken breasts (mine were frozen but you can also use fresh)
1 jar of medium salsa (I imagine my beloved TJ's chipotle salsa would work well too)
1 can of black beans, drained
1 can of Campbell's cheese soup
Directions:
(Best done in the morning) Place the chicken in your crockpot and cover with salsa. Turn your crockpot on low and go to work…or wherever you go during the day.
When you get home, drain your beans and throw them in there, along with the can of cheese soup. Stir and allow to cook another 30 minutes or so. (NOTE: After emptying out my fridge to make sure that I REALLY had NO cream cheese–because it really is a rare event–I forgot to add my black beans! So basically, I was a hot mess in that moment. But trust that they taste good in there).
My kids liked both the original and this version with crushed tortilla chips on top (I use TJ's spicy flaxseed soy nachos).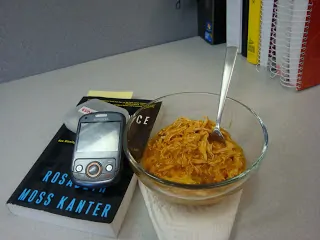 This is a nice lunch to take you away from the craziness of your busy day…but not too far…the world might end or something.
I would call this a serendipitous moment…but it wasn't nearly that coordinated! PWYF peeps!