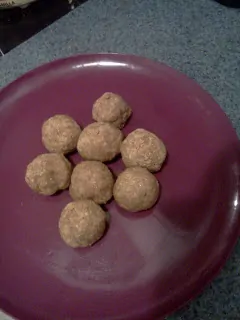 (Insert snicker…go ahead…your inner 12 year-old is DYING to do it!) Yes, yes, on with it then…

The name is good for SEO the best name I could come up with to describe these things. As always, there's a story behind them.
So…I wanted to make peanut butter balls. Because I've seen them a few times. Paula Deen and whatnot. But I know that they are not particularly healthy in their original form. So one day I'm in the kitchen…tinkering…and I came up with what became this recipe.

Funny thing about these little suckers. They are deceptively FILLING. They are about the size of a jack ball (did you used to play jacks as a kid?). I ate two at about 7 p.m. that night and did not eat again until 2 the next afternoon. I kid you not. I documented it.
So…wondering if this was unique to me, I asked a few other Foodies to try out the recipe. One of them being my friend Leslie (who inspired "
Kitten's Love Potion #9 Protein Frosting
"). She is a runner. And she, too, has a fairly…hearty pouch. She tried them. While she didn't wait quite so long to eat as I did, she reported just one was DEEPLY satisfying.
And now I am passing this recipe onto you, dear Foodies. And because I am feeling decidedly
less bitchy
more informational than usual I will even give you MY stats for this, although I encourage you, as always, to run your own stats using the ingredients YOU use. You'd be surprised at the variance.
Good balls are usually full of good stuff. This is what's in my balls!
Nik's Protein Power Balls


1 c. Fiber One Original cereal, crushed into crumbs
1 scoop vanilla protein powder
1/4 tsp cinnamon
4 tbsp peanut butter (more about this in a moment)
3-4 tbsp milk
Optional: Splenda or other no-calorie sweetener, to taste
Directions:
Combine Fiber One crumbs, protein powder, sweetener (if you're using it – in my first few batches I did. In this one I did not) and cinnamon in a bowl. Mix well. Then add your peanut butter.
Back to business…
Next you want to add your milk, one tablespoon at a time until your mixture looks something like this:
So let's talk about what your mixture should NOT be: soggy. You want it to be moistened but not wet. It should sorta resemble sand and have large clumps. K? Because when you get it right, this is what you should be able to do with it:
I did this by taking a heaping tablespoon of the mixture into my hand and rolling it around until I achieved a round shape. If you cannot do this with your mixture, even after four tablespoons of milk, add water by the teaspoon full. It will happen eventually!
And that's it! I store mine in an airtight container in the fridge and have learned, with practice, to only eat one at a time! Like I said, these suckers will fill you UP! For those of us a few years out, this is a good thing. Newbies: take heed.