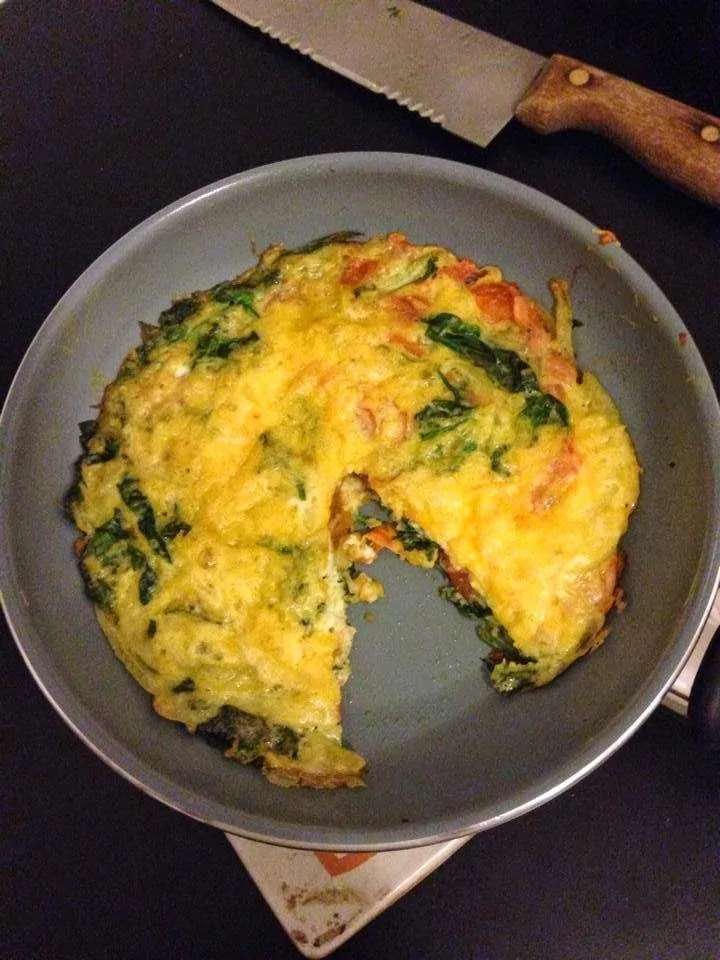 This is a close-up but this frittata fits on a SALAD sized plate!
So in case you haven't heard, my third book, The Bariatric Foodie Breakfast Book, was released today in hard copy on Amazon! (My e-book loving Foodies, hold tight! I just got what I hope is the final draft of the Kindle, Nook and iPad versions so I hope to have them for sale this week also.)
To celebrate, we're doing "Breakfast Week" here on the blog where I'm going to share four BONUS recipes corresponding to the four major sections of the book.
First up, eggs!
In the book, I go over some of the challenges post-ops have with eggs. I know some folks have problems with eggs, especially after they've been reheated. For me, they've always been a safe food so I do a lot with them.
But one thing I heard from you guys in the past about my books was that the recipes seemed a little daunting for folks with smaller appetites (I'm not one of you but I do LOVE you!). So in this book I made a real effort to give folks options. For instance, all the scrambles in the book have mini-sized and SUPER mini-sized versions so that you can pick which version works best for you!
TIP: Read the intro pages to each of the recipe sections. There's valuable tips. For instance, in the intro to the section on Egg Casseroles there is guidance on how to make them into mini-quiches using a mini-muffin tin. In the intro to the Egg Scrambles, I show you how to make those individually-portioned meals into a breakfast your entire family can enjoy!
To make this recipe you'll need a 7-ish inch oven-safe skillet. You can click this link to see one but I got mine from K-Mart. 🙂
Nik's Mini Farm-Stand Frittata

Ingredients:
1/4 of a small yellow onion, cut into slivers
1/2 a small tomato, diced (seeded if the seeds bother you)
A handful (or about 1/3 c.) baby spinach
1 clove garlic, minced
1 large egg, beaten
1/4 tsp. baking powder
1/4 c. shredded cheese of your choice (I used Kraft 2% Mexican-blend cheese)
Directions:
Preheat your oven to 350 degrees.
Spray your skillet down with non-stick cooking spray, set it over medium heat and allow it to get hot.
Add onions and cook about a minute, or until softened. Add tomato, spinach and garlic. Toss and cook about another 2 minutes or until spinach just starts to wilt (NOTE: It should still be a nice, verdant green!). Drop your heat to medium-low.
In a separate bowl, whisk together egg and baking powder (this is one of the rare instances where you can actually use baking soda instead – and usually I do – but sources tell me it can sometimes produce a slightly metallic taste in the finished product. I've never noticed one but just to disclose!).
Pour egg into skillet and swirl skillet so that the egg gets into the nooks and crannies of the veggies and forms a circular shape. Cook (stirring insides gently with a wooden spoon) until edges begin to set.
Top with cheese and pop the entire thing in the oven. Cook for about 10 minutes or until the center is done (it will puff up slightly) and cheese is browned to your liking.
Remove from oven and place skillet on a cooling rack. If this is too big a portion for you, from here you can cut it. If not, slide that sucker onto a plate and be happy!
If you have leftovers, wrap them well in plastic wrap and stash in the fridge. They do fine on the reheat IF you generally do well with reheated eggs. (If not, tread carefully!)
Here's another variation I did with peppers and onions. Frittatas are so versatile you can make them a million different ways!